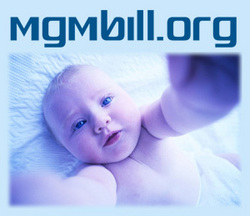 I hear from men all around the country about the damage caused by circumcision
San Diego, California (PRWEB) January 9, 2008
MGMbill.org is again calling on Congress and state lawmakers to enact legislation that would require men to be eighteen years old before undergoing circumcision. Yesterday, more than 2,500 elected federal and state officials received proposed bills via email, fax, and mail from the group's state offices as part of an ongoing effort to make circumcision laws gender neutral.
"The legislation that we are proposing would give boys the same protection from genital cutting that girls have enjoyed since 1997," said Matthew Hess, the group's president. "Circumcision removes erogenous tissue in both sexes and results in a measurable loss of sexual feeling. It is a traumatic and disfiguring surgery that should not be performed on children unless there is a clear, compelling, and immediate medical need - period."
Genital cutting of girls has been prohibited in the U.S. since 1997 when the Female Genital Mutilation Act took effect, requiring women to be eighteen years old before consenting to any type of genital surgery. The law has been credited with helping to keep forced female circumcision from spreading to the U.S. from Africa and the Middle East, where it is much more common. Boys were not included in the law, however, and as a result circumcision is still performed on nearly 60% of U.S. newborn males by physicians, religious practitioners, or family members.
The practice is undergoing renewed legal scrutiny now that a handful of physicians and health officials are calling for mass circumcision to control the spread of AIDS in Africa. South Africa's Parliament stepped in and passed the Children's Act, which took effect in July and gives significant legal protection to boys under the age of sixteen from being forcefully circumcised. A month later, the Tasmanian Children's Commissioner in Australia urged the state government to ban medically unnecessary circumcision of boys, calling it an abuse of human rights. The Australian Medical Association has generally backed the Commissioner's position.
A Frankfurt, Germany, regional appeals court pushed circumcision further into the legal gray area when it found that the circumcision of an 11-year-old Muslim boy without his approval was an unlawful personal injury. And in November, the Oregon Supreme Court heard a case filed by the mother of a 12-year-old boy trying to protect him from being circumcised by his father for religious reasons (the court's decision is pending).
"I feel strongly that boys have the same legal rights as girls to grow up with their genital organs left intact," said Michelle Richardson, director of MGMbill.org's Texas state office. "If a man wants to undergo circumcision when he becomes an adult, then that option will always be there for him. But the decision should be his to make, and his alone. Circumcision is not medically necessary, and it can have far reaching sexual and emotional side effects. It should not be forced onto anyone, and that includes children."
Ron Low, director of MGMbill.org's Illinois state office in Northbrook, is all too familiar with those side effects. "I hear from men all around the country about the damage caused by circumcision," said Low, who owns and operates TLCTugger.com, a foreskin restoration device manufacturer. "They write to complain about loss of sensitivity, about pain during sex, and about how angry they are that a part of their body was taken from them without their consent. Although some of the damage from circumcision can eventually be reversed through non-surgical foreskin restoration, even the best restoration will not make the thousands of specialized nerve endings grow back. Those are gone forever."
State legislatures that received MGM Bill proposals yesterday included California, Florida, Illinois, Iowa, Louisiana, Maryland, New York, Ohio, Texas, Utah, Vermont, Virginia, and Washington. A federal version was also submitted to President Bush and all members of the U.S. Congress.
###