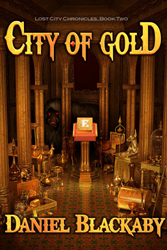 This inaugurates a trilogy that young fans of the fantastic will like for its fast-paced action.
- Publishers Weekly
Boise, ID (PRWEB) June 03, 2013
June 2013: Russell Media is set to release the second book in Daniel Blackaby's highly acclaimed young adult fiction trilogy, Lost City Chronicles. Book two, City of Gold, picks up where top selling Legend of the Book Keeper left off.
"This inaugurates a trilogy that young fans of the fantastic will like for its fast-paced action." - Publishers Weekly
The Lost City Chronicles trilogy began, in Legend of the Book Keeper, by diving into the life of an ordinary teenage boy named, Cody Clemenson. Cody and his best friend, Jade, embark on a journey that thrust them into an epic battle between two powers in a new world at the Earth's center. Their tale is filled with mystical locations, mysterious characters, and suspenseful adventure. The thrilling saga continues in book two, City of Gold.
City of Gold begins in the shocking aftermath of Legend of the Book Keeper where a millenium of growing tension between Atlantis and El Dorado has erupted in violent conflict. Amidst a world in chaos, Cody tries to piece together the remnants of his own shattered life. His best friend, Jade, has been ripped away – and Cody knows it was entirely his fault.
Getting her back won't be easy. The dreaded Golden King's ultimatum is clear – seven days. When the light vanishes on the final day Jade will either be rescued – or dead. "Seven Days, the race against time is about to begin, the clock is ticking."
Grandson of Experiencing God author, Henry Blackaby, and son of speaker and author, Richard Blackaby, Daniel Blackaby is the emerging voice in the Blackaby publishing tradition. Daniel's greatest passion is exploring the magical world of language. As a child, when not crafting elaborate fantasy tales, he could be found with his nose buried in a great book. Now, with a young writing career that includes successful non-fiction (When Worlds Collide), he returns to his first love of imaginative fiction with his trilogy: Lost City Chronicles
"The first book in the Lost City Chronicles is an exciting action-packed fantasy thriller" - Harriet Klausner (#1 Amazon Book Reviewer)
Find out more about Lost City Chronicles and pre-purchase your personal print or e-book copy of City of Gold at http://www.russell-media.com or Amazon.