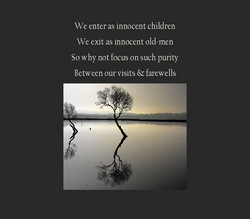 Change is the only constant in life. Those who do not embrace it will die and those who do will be set free.
Springfield, VA (PRWEB) December 13, 2009
Circuit Court of the City of Fredericksburg, VA. August 2008 - Case # CR 08-390 & 391: City officials and judiciary appointees enact their own restaurant liquor laws to impose 21 felony charges against the partners of The ORM Group, according to Ronald Kublawi, one of the partners.
During May 2002, a partnership registered as, The ORM Group, is formed between Kublawi and 2 other partners. ORM signs a 15-year lease with The Silver Company to take over a 2-story 30,000 sq ft building in Fredericksburg to operate Uncle Sam's American Grill, providing a banquet facility, a restaurant, a sports bar and an entertainment spot.
During first year of operations, Uncle Sam's built a politically-correct reputation. With a staff of 150, its banquet facilities accommodated social and political functions hosting the Virginia Mayor, the Chamber of Commerce, the Fredericksburg Police Department, plus many corporate bookings, weddings and Christmas parties. Often, entertainment included 3 live bands performing Southern and Classic rock music.
Without paying proper attention to the exclusion of a non-compete clause from their lease, by 2004 the ORM found themselves surrounded by nationally known franchise restaurants, causing a loss of $1 Million in food sales during its second year of operations.
To make up for revenue loss, the ORM expanded entertainment venues to include DJ(s), Ladies' nights, Dance and Hip-Hop music. This shift in entertainment identity attracted a younger crowd and a major influx of Afro-American clientele. That is when conservative City officials made a decision to drive Uncle Sam's out of their town. That is when an American with an "unwanted" heritage is typically asked by a Southern official: "You ain't from around here boy, are you? Cause we don't want your kind".
Partners of Uncle Sam's survived a 5-year struggle from 2002 until 2007 by working around the clock and literally sleeping in the banquet rooms. They continued to fund operating losses through SBA financing and private equity injection with the hope that City officials will back off
Uncle Sam's withstood all sorts of pressures from: front page negative publicity by local papers, security issues with the Police Department, over-capacity with the Fire Marshall, kitchen compliance with the Health Department, bar compliance with ABC agents and eviction notices with the Landlord.
But the ORM partners could not withstand being dragged to prison for the mere attempt to survive. When all attempts to pressure the business failed, the City Manager called his dogs to handcuff the partners and throw them in the Rappahannock jail. The City's justification is that the ORM partners fraudulently owe $198,000 in unpaid city meals tax on "Unsold Liquor"?
"What the heck does that mean, Unsold-Liquor?" asked the first judge to whom the case was first presented? Because of his fair dealings, the City's witnesses, Commissioner and Auditor, intentionally did not show up to the hearing, thereby causing the first judge to issue a continuance to a future date, a date that is convenient to the City, when their favored pre-selected judge is pre-scheduled to rule in their favor.
So, what is Unsold Liquor and what rule did these officials enact?
The ORM liquor policy was to pour 1.75 ounces per drink. During trial, the ORM's key witness was an ex-member of the VA ABC board who is a practicing attorney specializing in liquor audits. His testimony was that "there is no VA ABC law, rule or regulation that dictates a bar owner to pour a limited amount of ounces per serving, nor is there a law that identifies the exact amount of alcohol to be poured in a single drink". He further added that "Uncle Sam's liquor policies were in accordance with industry standards and that the ORM partners do not owe the City any taxes at a 1.75 ounce level per serving".
Since his testimony was expected to fall on deaf ears, the judge ruled that Uncle Sam's should have poured 1.25 ounces instead of 1.75 ounces per drink. Since Uncle Sam's over-poured 0.5 ounces per drink on the 1.6 Million drinks sold in 5 years, the ORM partners are criminally guilty of meals tax fraud to the extent of $198,000. This is the new law the City officials enacted!
Despite that these proceedings had been informally communicated to The Justice Department, The FBI Civil Rights Division and The NAACP, this case continues to fall on deaf ears.
Ronald Kublawi - Partner / ORM Group (Dba Uncle Sam's American Grill)
An American Citizen from an "Unwanted" Heritage
ronkublawi(at)yahoo(dot)com
http://www.HomelessAngels.com
###