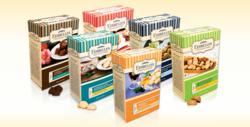 We wanted the packaging to reflect our Southern roots and evoke the same feeling of place that the products themselves do.
Savannah, GA (PRWEB) February 22, 2012
Edibelles Gourmet Cookie and Snack Company won an ADDY award for outstanding packaging at the 2012 Savannah ADDY Awards. The packaging, which weaves together Southern stories and imagery for each flavor's box, was designed by Clark Creative of Savannah.
Edibelles was launched in 2011 by entrepreneur Madeleine Warren, who worked with the Clark Creative team to develop unique designs for the the six products. The packages celebrate the traditions of Southern hospitality with individualized stories and hand-drawn illustrations.
"Each of our flavors is a Southern tradition," said Warren. "We wanted the packaging to reflect our Southern roots and evoke the same feeling of place that the products themselves do. We're thrilled that the judges representing the American Advertising Federation recognized this work with an award."
Cari Clark Phelps, creative director and founder at Clark Creative, recalls that the product development was a rewarding collaboration. "Madeleine was clear that she wanted the products to represent the recipes Southern families have used for decades. Our challenge was to develop a storyline brand and create packaging that would communicate that deep link to Southern tradition in a modern and distinctive way. We're very proud of the result."
The 2012 Savannah ADDY awards ceremony recognizing and rewarding creative excellence in the art of advertising was held on February 17, 2012. Conducted annually by the American Advertising Federation (AAF), the ADDY Awards is the advertising industry's largest and most representative competition, attracting over 50,000 entries every year in local ADDY competitions. The local ADDY Awards is the first of a three-tier, national competition.
There are six flavors of Edibelles cookies and snacks: Charming Cheddar Biscuits, Choice Chocolate Cookies, Perfectly Peach Cookies, Beloved Butter Pecan Cookies, Southern Praline Snackin' Mix, and Sophisticated Shortbread Cookies. The Edibelles products are being carried by more than 50 locations in nine States and was recently selected by the 5-star Inn at Palmetto Bluff as a guest amenity gift.
ABOUT CLARK CREATIVE: Clark Creative is an award-winning design and communications firm based in Savannah that works with businesses nationwide to establish their brand identity and position themselves strategically in the marketplace. Ten years of excellence under founder and Creative Director Cari Clark Phelps has established Clark Creative as one of the top design firms in the Southeast.
###