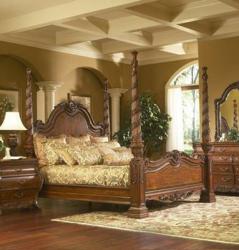 A good bedroom set should have comfort and style in spades, and nothing does that quite like an antique design.
(PRWEB) June 10, 2013
HomeThangs.com – the Online Home Improvement Store – has made their goal to deliver the right product to the consumer. With that in mind, shopping and home design tips, as well as special product selections are being introduced.
Much of interior design is modernizing – streamlining shapes and simplifying design to reflect the more casual contemporary lifestyle. But if there's one space where opulence reigns, it's the bedroom. A good bedroom set should have comfort and style in spades, and nothing does that quite like an antique design. HomeThangs.com has introduced a guide to antique beds and using them to recreate a little old world style and luxury.
Bed frames run the gamut from almost invisible in their simplicity to hugely ornate and decorative. They all serve the same purpose: to elevate a mattress to a comfortable level and give it a sturdy, supportive base. But antique bed frames go a step beyond, including not only a headboard and baseboard, but also often elegant features like deep, sleigh style sideboards, elaborately carved platforms, or decorative posts that enhance the luxury style of the bed.
What primarily distinguishes antique beds from any other sort of decorative bed frame is the degree of ornamentation in the design. There are plenty of beautiful headboards out there, from simple conventional wood designs on the contemporary end to faux snake leather and Swarovski crystals on the highly modern end. But antique beds are easily distinguished by their elaborate, intricate floral carvings and highly detailed designs. Antique beds are often covered with wood carvings from head to toe and have the regal air of the furniture used by the European aristocracy.
In addition to the carved detailing, antique beds are often made to showcase exotic, expensive woods. Mahogany and cherry are both traditional choices, and create a rich, lustrous appearance. Admittedly, contemporary versions are more often made to look like they're made of expensive wood than they are actually made of expensive wood, (since mahogany is harder to come by for most of us than it would have been for upper class Victorian designers!), but often include beautiful wood veneers that ultimately give the same sophisticated look.
That said, for all the emphasis placed on wood and woodwork in antique design, there are finish options beyond a simple choice of wood tone. PolRey in particular offers a wide selection of bench-made, hand-finished antique replica furniture that's available not only in the traditional oak, mahogany, and walnut finishes, but also pearl, ivory, and gold enamels with delicate hand painted detailing. This makes for a softer, more feminine antique bed that's a better match for bright, well-lit spaces and lighter decors.
While platform and sleigh style antique beds aren't all that different from more contemporary platform beds (though obviously with a whole lot more detailing), four post antique beds very clearly have their roots in an older time. Originally popularized in medieval Europe, four post beds once supported either a wooden or cloth platform (or canopy) and could be enclosed with curtains on all open sides. Now canopy and four poster beds are merely decorative, as they aren't particularly needed for warmth or privacy. Still, a four post bed can be used quite effectively to accentuate the height of a tall room and lend a regal air to an old world design.
It probably comes as no surprise that many of these ornate, ornamental antique beds come as part of larger bedroom sets. After all, carved detailing is difficult to match under the best of circumstances, and a luxury antique bed would look a little out of place with an otherwise modern decor. To that end, most antique beds come paired at least with a night stand, dresser, and mirror, and sometimes an antique armoire or second dresser, making it simple to get a complete bedroom design.
To find out more about antique beds and bed frames, read the full article here, or check out more styles from Classic Design.
HomeThangs.com is not only a home improvement superstore, it also provides expert design tips and a comprehensive shopping guide, taking the ideas from professional interior designers, and offering tips to the consumers on how to pick the products to best suit their needs.