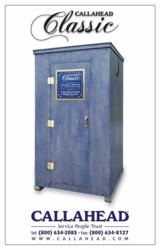 To Develop and Evolve a Human Necessity.
Broad Channel, NY (PRWEB) June 30, 2011
"CALLAHEAD appreciates our American heritage, and its classic old world style. To keep that history alive, we are proud to introduce the CALLAHEAD Classic portable toilet. CALLAHEAD has reinvented the old world wooden outhouse for those traditionalists who appreciate, as we do, the nostalgia of our American heritage," explains CALLAHEAD CEO, Charles W. Howard. "When the Pilgrims settled in America, they used outdoor bathrooms, since they had no running water or indoor plumbing. These bathrooms were called 'outhouses' or 'privies'," he added. "This classic portable restroom has the look of outhouses used by our forefathers, so users will enjoy the comfort and privacy of yesterday. The CALLAHEAD Classic will be a conversation piece during your barbecue, special event, or any time it's in use, for that matter," said Mr. Howard.
The CALLAHEAD Classic portable bathroom will bring you back to that American heritage with its blue stained wooden design and carved moon on the side walls of the unit. Inside this restroom is a dark mahogany wooden toilet seat with brass hinges and a stainless steel drop tube that leads to a large 55 gallon holding tank. To keep with the feel of the tradition of the American Pioneer, an old fashioned wooden double toilet paper holder is included. The CALLAHEAD Classic is spacious and completely private, has brass hinges on the door, as well as CALLAHEAD's signature navy blue signage.
As with all of CALLAHEAD's portable restrooms and equipment, only the finest materials are used to create this replica of our American history.
Ideally Suited for:
Concert Events, Parks, Parades, Special Events, Commercial Job Sites, Home Construction, Home Renovation Jobs, and more.
A pioneer in the portable restroom industry, CALLAHEAD is New York's largest portable toilet company, having served Metro New York since 1976. CALLAHEAD supplies provides a vast array of sanitation equipment including Portable Restrooms, VIP restroom trailers, Construction Toilets, Guard Houses | Guard Sheds | Guard Booths, holding tanks, handicap toilets, comfort stations, portable sinks, porta potty rentals, and more. Same day delivery is possible through a fleet of 60 vehicles, on the road every day.
For more information, visit CALLAHEAD's website (http://www.callahead.com), or Call Toll-Free: 1-800-634-2085
###