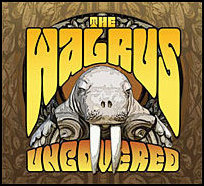 Bellingham, WA (PRWEB) July 19, 2007
The Walrus takes its classic rock music on the road later this month as it begins a four-day rock 'n' roll tour of Oregon and southern Washington.
First stop on the Walrus rock 'n' roll music tour is the annual Myrtle Creek Summer Festival, sponsored by the Myrtle Creek Lions Club, on Thursday, July 26. The Walrus will also bring its rich vocal harmonies to Mia's & Pia's Pizzeria & Brewhouse in Klamath Falls and the Black Forest in Eugene where two other bands will also perform. The band's tour then moves to Washington state and ends with an acoustic rock 'n' roll set at the Mandolin Café in Tacoma, Wash., on Sunday, July 29.
The Walrus is best known for its classic rock cover tunes, and its fan base in the Pacific Northwest increased dramatically after the release of "Uncovered," its debut CD of original songs in the classic rock music style. The Walrus CD features rock 'n' roll, pop and folk vocal arrangements and harmonies reminiscent of the Beatles, Crosby Stills Nash & Young and other classic rock bands from the 1960s and 1970s. The original songs on the CD include "Abbey Road" and "Hold Your Hand," reminiscent of early Beatles; "The Garden," inspired by the 1992 New Age novel, "Ishmael," and the psychedelic-sounding "Gaia."
The band's vocally rich and intricate arrangements include songs by the Beatles, Queen, the Eagles, the B-52s, Kansas, Manhattan Transfer, Roy Orbison, Eric Clapton, Jefferson Airplane, the Hollies, CSNY, the Kinks, and Aretha Franklin.
Details on the Walrus tour schedule:

6 to 10 p.m., Thursday July 26 at the Myrtle Creek Summer Festival in southern Oregon
9 p.m. to midnight, Friday July 27 at Mia's & Pia's Pizzeria & Brewhouse in Klamath Falls, Oregon
11 p.m. to midnight, Saturday, July 28 at The Black Forest in Eugene, Oregon
7 to 9 p.m. Sunday, July 29, an acoustic set at the Mandolin Café in Tacoma, Washington
About the Walrus and "Uncovered:"
For the last 11 years, the Walrus' five seasoned musicians have energized audiences of all ages with rich vocal harmonies and sizzling musical arrangements on classic rock cover tunes. Now these Rockin' Sea Mammals are delighting rock 'n' roll fans with 11 new rock classics on their debut CD, appropriately titled "Uncovered." The rock music on "Uncovered" conveys an ageless popularity with electric, acoustic and pedal-steel guitar licks and both male and female lead vocals. Each of the 11 new songs is so different that the album has been likened to a "Greatest Hits" music collection.
For more information about the Walrus music tour of Oregon and Washington or the CD of original classic rock music, go to or http://www.tusktusk.com/.
###