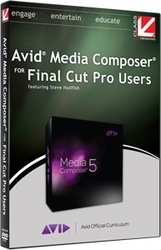 Avid Media Composer for Final Cut Pro Users
(Vocus) August 24, 2010
Class on Demand™, a provider of professional educational products for creative markets, has announced its new training course—"Avid Media Composer for Final Cut Pro Users"—is now available to purchase via the Class on Demand and Avid websites. Named the preferred tool for acclaimed editors by the American Cinema Editors organization, Media Composer® 5 is arguably the most trusted video editing system in the media and entertainment industry. Working closely with Avid®, the new Class on Demand training course leverages Final Cut Pro editing concepts for an easy adoption of the advanced editing capabilities of Media Composer 5.
"Editors today want to focus on the craft of storytelling, without worrying about technology. This training course is designed to accelerate the learning curve for Media Composer so that editors can do just that," says Carolyn Lightner, senior director of worldwide training, Avid. "The easy-to-comprehend training allows anyone in the industry, especially those familiar with Final Cut Pro, to tap into Media Composer's open, flexible workflow options—from native support for the industry's most popular file-based workflows to multi-channel audio support and stereoscopic editing capabilities. Knowledge of both solutions gives editors the choice to use the editing solution best suited for the job at hand."
Paul Holtz, CEO and founder, Class on Demand, adds: "Avid Media Composer was utilized to craft one of the most revolutionary motion pictures of all time - Avatar. It is the preferred choice for thousands of editors and industry experts around the world. Because of this, there are editing opportunities that call for editors who have experience with both Media Composer and Final Cut Pro… Our new 'Avid Media Composer for Final Cut Pro Users' course is a perfect way for Final Cut Pro editors to stand out among the crowd. It presents a clear and concise view of Media Composer's powerful interface, allowing Final Cut Pro editors to quickly identify similarities between the two editing suites and confidently take advantage of its capabilities. We are excited to work alongside Avid to provide Final Cut Pro editors with an invaluable course to help advance their careers in this highly-competitive industry."
Instructed by Avid Master editor and author, Steve Hullfish, "Avid Media Composer for Final Cut Pro Users" employs editing concepts and guidance from Final Cut Pro to help Final Cut Pro editors quickly and easily acclimate to the powerful Media Composer interface. The training is broken down into 14 logical segments, ranging from fundamental differences of the two non-linear editing systems, to creating effects, to multi-camera editing techniques. The non-linear approach enables Final Cut Pro users to focus on chapters best suited for their individual learning needs. Completed project files can also be accessed during the training to provide maximum information retention.
For a preview of Class on Demand's "Avid Media Composer for Final Cut Pro Users," please visit: http://www.classondemand.net/media/avid-training/mcforfcp.aspx.
Pricing and Availability
The new Class on Demand training "Avid Media Composer for Final Cut Pro Users" is priced at $99.95 USD and can be streamed instantly through the Class on Demand Online Learning Platform or shipped directly to you in traditional DVD-ROM format via the Class on Demand website (http://www.classondemand.net/media/avid-training/mcforfcp.aspx). The training course can also be purchased via the Avid website (http://shop.avid.com/store/detailproduct.do?partnumber=0010-30521-01).
About Steve Hullfish
Steve Hullfish was named an Avid Master Editor in 1996. Since then, he has written or co-written four books on editing and color correction, including The Art and Technique of Color Correction and Avid Xpress Pro Editing Workshop. His editing credits span more than 20 years, including editing the Oprah Winfrey Show for which he won a Daytime Emmy. Other broadcast credits include Emmy nominations for Investigative Reports and Cold Cases with Bill Kurtis on A&E. He runs his own production company - Verascope Pictures - and his clients include Universal Studios, NBC Television, Turner Broadcasting, HIT Entertainment, Jim Henson Entertainment and VeggieTales.
About Avid
Avid creates the digital audio and video technology used to make the most listened to, most watched and most loved media in the world – from the most prestigious and award-winning feature films, music recordings, television shows, live concert tours and news broadcasts, to music and movies made at home. Some of Avid's most influential and pioneering solutions include Media Composer®, Pro Tools®, Interplay®, ISIS®, VENUE, Oxygen 8, Sibelius®, System 5, and Pinnacle Studio™. For more information about Avid solutions and services, visit http://www.avid.com, del.icio.us, Flickr, Twitter and YouTube; connect with Avid on Facebook; or subscribe to Avid Industry Buzz.
About Class on Demand
Class on Demand is a leading producer of education and training programs. Its products and services address the needs of individuals, professionals and corporate training. Current programs cover a broad spectrum of content, including: video capture and editing, computer animation, federally mandated training, customized corporate training, IT, and vocational education. Please visit: http://www.classondemand.com
for additional information regarding products and services.
Class on Demand is a registered trademark of Class on Demand, Incorporated. Avid, Media Composer, Pro Tools, Interplay, ISIS, Sibelius and Pinnacle Studio are trademarks or registered trademarks of Avid Technology, Inc. or its subsidiaries.
###