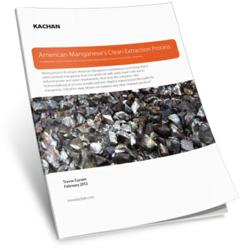 Mining has traditionally been a dirty business. But that's changing.
Vancouver, BC (PRWEB) February 15, 2012
Kachan & Co., a cleantech research and consulting firm, has published a report examining the clean mining claims of mine developer American Manganese (TSX.V: AMY; Pink Sheets: AMYZF; Frankfurt: 2AM).
The company is developing a manganese deposit in Arizona and aiming to become the lowest cost producer of the metal, which is used in lithium ion and other batteries, as well as other cleantech products, and in the manufacture of steel. Currently there are no other North American providers of manganese.
Key to the company's lowest cost ambitions is a new hydrometallurgical system to process the ore. The company claims its process uses far less energy and water than existing ones, and results in tailings (i.e. the output of the process) that are environmentally benign and may be placed back into the site immediately after processing.
"On paper and in pilot, American Manganese's hydrometallurgical process is promising," said Dallas Kachan, Managing Partner, Kachan & Co. "Proving the process at scale in the field will be the company's biggest challenge, but early indications are encouraging."
In a departure from conventional mining and processing techniques, American Manganese' process is intended to be a virtually closed loop, with water recycling and extraction of toxins. There are to be no unsightly tailing ponds or standing produced water onsite.
"Mining has traditionally been a largely dirty business. But that's changing. American Manganese's site in the desert of Artillery Peak, Arizona is to look very different from the images of the oil sands of Northern Alberta, for instance, or where hydraulic fracturing ("fracking") is performed for natural gas," said Kachan.
Kachan's report on American Manganese examines supply and demand for the electrolytic manganese metal (EMM) the company plans to produce, and describes the company's hydrometallurgical process and what sets it apart from today's approaches. It then summarizes industry feedback from interviews with mining professionals worldwide and concludes with its own analysis of American Manganese's probability for success.
Kachan & Co.'s report titled American Manganese's Clean Extraction Process is available for immediate download at http://www.kachan.com/research/american-manganese-clean-mining-process. The report is intended for companies in the global manganese and steel industry value chains, mining firms seeking to develop their own clean or green processes, battery technology vendors of lithium ion or other advanced chemistries, governments and others.
About Kachan & Co.
Kachan & Co. is a cleantech research and advisory firm with offices in San Francisco, Toronto and Vancouver. The company publishes research on clean technology companies and future trends, offers consulting services to large corporations, governments and cleantech vendors, and connects cleantech companies with investors through its Hello Cleantech™ programs. Kachan staff have been covering, publishing about and helping propel clean technology since 2006. For more information, visit http://www.kachan.com.
For more information, or to schedule an interview, contact:
Lucia Siplakova, Kachan & Co.
+1-415-390-2080 x6 office
+1-778-855-1674 mobile
lucia(at)kachan(dot)com
# # #