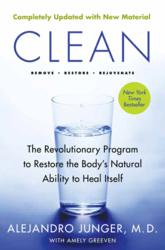 "The Clean program works, and it works beautifully. It is safe, easy to follow, and achieves amazing results. The wisdom and information contained in this book is deeply helpful and life changing." –Gwyneth Paltrow
San Francisco, CA (PRWEB) April 24, 2012
A New York Times bestseller in hardcover and paperback, CLEAN is now available in a newly updated and expanded paperback edition which includes a new introduction by Dr. Junger, a new section called Clean for Life about living 'Clean' every day of the year, and 16 new recipes, all designed to rid the body of a multitude of toxins that infiltrate our systems on a daily basis. The effect of the CLEAN program is transformative: nagging health problems suddenly disappear, extra weight drops away, and real health is restored.
In CLEAN, cardiologist and leader in the field of integrative medicine Dr. Alejandro Junger offers a major medical breakthrough, arguing that the majority of common ailments are the direct result of toxic build-up in our systems accumulated through the course of daily life. The toxicity of modern life disrupts the body's systems, yet people's ability to handle the ever-increasing load hasn't accelerated at the same rapid pace. While toxins are unavoidable, CLEAN offers a solution by providing all the tools necessary to support and reactivate the body's detoxification system to its fullest capabilities, and is easily incorporated into a busy schedule.
Every day spent on the CLEAN program is a major step in healing not only the symptoms but the root problems, simply and effectively. Dr. Junger's life-changing program restores health, vitality, and peace of mind, including:
The hidden link between the stomach and state of mind: new research proves that intestinal health directly affects serotonin production, meaning that depression can actually start in the gut.
Milking a diet? Not so fast: Surprising new details regarding traditional treatment of osteoporosis—and why eating dairy can actually deplete calcium stores in women over thirty.
You can overcome your genes: Just because a mother had heart disease or cancer doesn't mean her children will, too. Gene expression can be turned on and off, and lifestyle—especially nutrition—is what determines if certain genes will express themselves.
Exposes traditional medicine's blind spot: The role that toxins play in chronic disease. Dr. Junger emphasizes that "global toxicity" (the effect of multiple toxins on the body, from the air, food, and water) is a major, largely undiagnosed factor in most forms of chronic disease.
Digestion vs. Detox: Our bodies have a natural detoxification system, designed to remove harmful substances—however, this system naturally "shuts down" during digestion. Therefore, Dr. Junger warns that overeating or eating the wrong kinds of foods prevents the body from properly detoxing.
Alejandro Junger, M.D. is board certified in Internal Medicine and Cardiology who spent years at Lennox Hill Hospital in New York City and now practices in Los Angeles. In addition, after completing his medical training Junger studied Eastern medicine in India. He was the Medical Director of WE Care Holistic Health Center in Palm Springs, a world famous center for fasting, cleansing and detoxification. Currently, he is in private practice at the renowned Eleven Eleven Wellness Center and is the director of Integrative Medicine at Lenox Hill Hospital in New York City.
Additional Praise for Clean:
"When I first met Dr. Junger I was impressed not only by his credentials as a leading expert in his field but how he was striving towards a new paradigm of healthcare. Through Clean Dr. Junger teaches us methods of cleansing, not only our physical bodies but also cleansing as a way of life-he shows us the power we have on a day-to-day basis to strive to be the healthiest, positive most beautiful beings possible."— Donna Karan
"Celebs are turning to cleanses, to aid in weight loss and rid the body of toxins...The [Clean] plan involves real food without severe nutrient deprivation." — Us Weekly
CLEAN: Expanded Edition
By Alejandro Junger, M.D.
On sale: April 17, 2012
$16.99 Trade Paperback
ISBN: 9780062201669
Also Available As An eBook