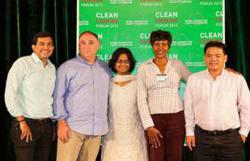 Phnom Penh, Cambodia (PRWEB) March 20, 2013
Celebrity chefs from around the world announced their commitment today to raising awareness about the toll that inefficient and harmful cooking practices take on billions of people worldwide. The announcement was made at the Clean Cooking Forum 2013, the biennial gathering of the clean cooking sector hosted by the Global Alliance for Clean Cookstoves (Alliance).
Nearly 3 billion people burn solid fuels for cooking each day, resulting in harmful smoke that impacts human health and fills the atmosphere with climate-changing gases. Millions are killed or sickened annually.
Before 500 of the world's leading cookstoves experts, the Alliance's culinary ambassador, Chef José Andrés, took his passion for increased food security, improved global health and greater access to clean cooking solutions and convened Chefs Susan Kamau of Kenya, Sanjeev Kapoor of India and Luu Meng of Cambodia to announce the creation of the Alliance Chef Corps.
"We are 4 people standing up and speaking out today about the 4 million lives lost senselessly each year from the act of cooking a meal," said Andrés. "As chefs, we feed the few, but we have the know-how and the commitment to help feed the many in safer, more sustainable ways. What we have seen first-hand and discovered about household air pollution from cooking's impact on people and the planet has driven us to take action and say, without hesitation, that 'cooking shouldn't kill'."
"I am already hearing from some of my other chef friends around the world who are eager to join the Chef Corps and help us achieve our collective goals," Andrés added.
"In Kenya, I had the opportunity last year to visit a cookstove manufacturing facility, learn about the devastating consequences of household air pollution in Kenya – which claims thousands of lives annually in my country – and practice lighting a new stove design," said Kamau. "The Alliance is working closely with the Kenyan government and clean cooking sector to create positive change in the country and the East African region, and I look forward to doing my part to raise awareness about this silent killer."
In December, the results of the Global Burden of Disease study were published and among the dozens of risk factors that were analyzed, household air pollution was found to be the fourth greatest health risk worldwide – and the number one environmental health risk in India and Asia.
"Cooking over the chulha stove in India is a common practice, but we must find and implement innovative ways to honor traditional foods while stopping the tragic deaths that occur each year in India and globally," said Kapoor. "Women, who are by-and-large the cooks in India and elsewhere, face too many health and development challenges each day; they should not have to worry that the seemingly simple act of preparing a meal could poison or even kill them or their loved ones.
"I have long been focused on improving livelihood and economic opportunities for women, and the promises inherent in a robust clean cookstoves and fuels market would be a game-changer for my country," continued Kapoor.
"About 95 percent of the Khmer people rely on wood or other solid fuel to cook their meals each day, which has devastating consequences for their health and our country's beautiful forests," said Luu Meng. "The Kingdom of Cambodia is developing rapidly, and increased access to cleaner, safer, and more efficient cooking solutions will help make that development more sustainable. I'm pleased to join the Alliance and my fellow chefs in this endeavor."
###
From left to right are Chef Sanjeev Kapoor of India, Andrés, Alliance executive director Radha Muthiah, Chef Susan Kamau of Kenya, and Chef Luu Meng of Cambodia. Photo Credit: Bokeh Cambodia. Downloadable photo available here.
Media Contact: Sean Bartlett | sbartlett(at)unfoundation(dot)org | +1 202 683 0453
Information on the Clean Cooking Forum's agenda, speakers, goals: http://www.cleancooking2013.org
Social Media: #CCForum
About the Global Alliance for Clean Cookstoves
The Global Alliance for Clean Cookstoves is a public-private partnership led by the United Nations Foundation to save lives, improve livelihoods, empower women, and protect the environment by creating a thriving global market for clean and efficient household cooking solutions. The Alliance's 100 by '20 goal calls for 100 million households to adopt clean and efficient cookstoves and fuels by 2020. The Alliance is working with its public, private and non-profit partners to help overcome the market barriers that currently impede the production, deployment, and use of clean cookstoves in developing countries. http://www.cleancookstoves.org.
About José Andrés
Named by Time magazine as one of 2012's "Most Influential" people in the world, José Andrés is an internationally recognized award-winning chef, passionate advocate for food and hunger issues, author, educator, and television personality. With his ThinkFoodGroup he runs renowned dining concepts in Washington, DC, Las Vegas, Los Angeles, Miami, and Puerto Rico. A native of Spain, Andrés was named Culinary Ambassador for the Global Alliance for Clean Cookstoves by former Secretary of State, Hillary Clinton. He is the founder of World Central Kitchen, a non-profit dedicated to finding creative solutions for hunger and poverty. He is Dean of Spanish Studies at the International Culinary Center in New York and California and teaches at George Washington University and Harvard.