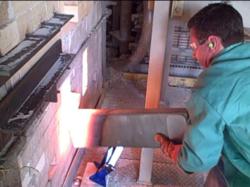 Converting The World's Waste Heat To Electricity
Austin, TX (PRWEB) January 26, 2012
MTPV, a clean energy semiconductor chip company, announced today that it raised an additional $3.25 million in the final closing of its series B financing. The funding, provided by Northwater Capital Management, Inc. and a follow-on investment from Applied Ventures, LLC, the venture capital arm of Applied Materials, Inc., completes the round that started with a $6.75M closing in August of last year.
The initial closing, which was led by pre-existing investor Spinnaker Capital, LLC of Boston, also included investments from Applied Ventures, the Massachusetts Clean Energy Center, Austin-based Ensys Capital, LLC, the Clean Energy Venture Group, and several others.
MTPV creates semiconductor chips that convert heat directly into electricity. Similar to a solar panel that converts sunlight into electricity, MTPV chips are able to convert any source of heat into electricity with breakthrough efficiency and power. As part of this financing MTPV, LLC changed its corporate structure and is now MTPV Power Corporation.
"Our fund specializes in companies with strong intellectual property." said Frank Egan, Managing Director of Northwater Capital. "We are excited to join this dedicated group of investors committed to bringing this impressive technology to the world."
"Northwater Capital brings significant experience and many industry relationships to MTPV that will greatly benefit us as we begin to commercialize our technology," said David Mather MTPV's President and Chief Operating Officer. "We look forward to partnering with Northwater and their impressive network of potential customers and collaborators."
About MTPV Power Corporation
MTPV is a clean energy semiconductor chip company using its breakthrough technology to harness the world's waste heat and convert it to electricity. For more information, visit http://www.mtpv.com.
About the Northwater Capital
Northwater Capital Management Inc. is a leading, privately held, investment management company founded in 1989. With offices in Toronto, New York, and Chicago, Northwater focuses on investments in intellectual property and intellectual property rich companies. The fund's objective is to combine leading intellectual property, compounding business models and world-class management to generate exits and excess returns. For more information, visit http://www.northwatercapital.com.
About Applied Ventures
Applied Ventures, LLC, a subsidiary of Applied Materials, Inc., invests in early stage technology companies with high growth potential that provide a window on technologies that advance or complement Applied Materials' core expertise. Applied Ventures' investments help develop technologies and markets that provide natural extensions of Applied Materials' businesses and can stimulate the growth of applications for its products and services. Applied Materials, Inc. is the global leader in providing innovative equipment, services and software to enable the manufacture of advanced semiconductor, flat panel display and solar photovoltaic products. Learn more at http://www.appliedmaterials.com.
###
###