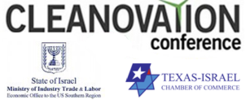 "Israel is a global Cleantech powerhouse, attracting millions of dollars in investment every year" author Shawn Lesser of Sustainable World Capital
Houston, TX (PRWEB) April 30, 2011
Cleanovation has emerged as one of the most important clean technology events for decision makers and thought leaders from around the globe. Topics include energy efficiency, water storage, security and conservation, wastewater treatment, smart-grid and more. The Government of Israel Economic Mission in partnership with the Texas-Israel Chamber of Commerce will host Cleanovation in Houston on September 14, 2011 at the ZaZa Hotel.
To register for this event please click here. More than 300 participants are anticipated to attend, among them will be leaders from Fortune 100 companies, Public Sector companies, and select emerging growth companies; many having headquarters in Texas or Israel. Early committed attendees include GE Energy, Nokia Siemens Networks, Waste Management, Shell GameChanger, CPS Energy, Silicon Valley Bank, IDE, Miya Water, Israel Cleantech Ventures, AT&T Services, U.S. Army Environmental Office, Elbit Systems, Texas Institute, Pike Research, Alvarion, Center for International Energy and Environmental Policy, Environmental Defense Fund and more… Last year's success may be viewed here.
Texas-Israel Cleanovation Conference
When: Wednesday, September 14, 2011.
Where: Hotel ZaZa, Houston
What: A special 1-day conference featuring the best Israeli as well as US companies relevant to the feild of cleantech and sustainability.
Industries: cleantech, renewable energy, sustainable energy, water technologies, energy storage, energy efficiency, wind power, solar power and more
Website: http://texasisrael-cleantech.org/cleanovation-conference-2011/
###