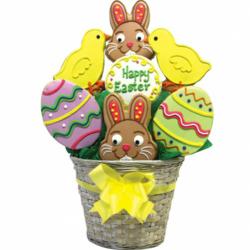 Islip, NY (PRWEB) March 09, 2013
For the 2013 Easter holiday, instead of filling your kids' baskets with painted hard-boiled eggs or gifting flowers that wilt a week later, here's the best Easter gift baskets alternative: Clever Cookie's Easter cookie arrangements! These colorful, creatively designed treats are perfect as both Easter brunch centerpieces and flavorful gifts that the whole family will enjoy devouring.
To further celebrate the joy of spring and the Easter occasion, Clever Cookie is holding a promotion that would make the Easter Bunny's tail twitch in excitement. From now until Easter Sunday, every order of $100 or more will be automatically entered into a drawing for a custom Make-Your-Own-Cookie Basket!
This year, Clever Cookie offers numerous Easter treat arrangements, including a Gourmet Easter Cookie Basket, an Easter Rainbow Cookie Platter, and a Springtime Flowers Cookie Basket, among many others.
Howard Saffeir at Clever Cookie, had this to say about their Easter extravaganza: "I think we love creating wonderful cookies just as much as our customers love eating them—maybe more! We're holding this special giveaway to help people enjoy their Easter all the more, and we know that everyone who orders our cookie arrangements will enjoy them so much there won't be enough crumbs left for even a bunny to munch on!"
For over 20 years, Clever Cookie has helped customers across the country find a unique way to enjoy special occasions and gift-giving of all sorts with their delicious and intricately designed cookies. Having been featured in numerous magazines and TV shows, including the Today Show and Food Network, Clever Cookie continues to expand its line of cookie creations, which includes sugar free cookies, Kosher cookies, giant cookies, and cookies that feature such child favorites as Dora the Explorer and SpongeBob SquarePants.
-----
Clever Cookie was founded in 1991 by sibling entrepreneurial spirits Lisa and David, who determined that cookies should be more than sweet treats—but creative confections that delight cookie-lovers of all ages! To learn more, visit Clever Cookie's main site at http://www.clevercookie.com/
-----
To get more information about Clever Cookie,
Contact:
Howard Saffeir
http://www.clevercookie.com/
info(at)clevercookie(dot)com
1-800-237-8443