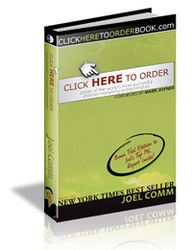 Loveland, CO (PRWEB) September 5, 2008
When people think of profitable online business ventures, they think of eBay, Amazon, Google, and MySpace, and internet entrepreneurs such as Larry Page, Sergey Brin, Tom Anderson and Steve Jobs. But there are a number of people without "name recognition" who have made--and are making--millions online. Joel Comm, the New York Times bestselling author of The AdSense Code, reveals the wild and woolly underground world of information product marketing and the inspiring stories of the online pioneers who left their ordinary jobs to become internet millionaires.
Click Here to Order presents an inside look at the little-known world of information product marketing, an Internet business sector that has turned people from all walks of life into online success stories. An Internet pioneer in his own right, Joel Comm follows the history of this niche from the early days of the Internet and the first direct marketing email to the rise of the long form sales letter and the teleseminar. From the birth of the browser and the earliest text ads to e-zines, affiliate marketing, micro-niche sites and podcasts, Comm introduces readers to the men and women who broke new ground and changed the way we do business on a daily basis.
Through Comm's narrative, we meet Armand Morin, Marc Andreessen, Gary Halbert, Cory Rudl, John Reese, Jonathan Mizel, David Garfinkle, Michel Fortin, Joel Christopher, Rosalind Gardner, Tellman Knudsen, Randy Charach and many more--people who, through their passion and persistence, gave birth to new ways of marketing and selling products and ideas online. These are the leaders who learned to create great content, websites, search engines, databases, intranets and extranets, and who continue to forge new ground and mentor a new generation of innovators. With the advent of social networking sites, multimedia platforms, blogs and vlogs, potentially creating new forms of internet marketing continues to inspire entrepreneurial visionaries a