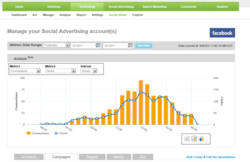 The tool is easy to use and the team is fantastic, resulting in huge productivity gains and growth for our agency.
New York, NY (PRWEB) October 04, 2011
Clickable, the all-in-one performance management solution for online advertisers, today announced new tools to make creating and managing Facebook® Ads simpler, more scalable and highly effective for advertisers and agencies.
Clickable's Facebook Advertising Suite, launched in January 2011, today debuts the Social ActEngine(TM), a set of sophisticated algorithms that automatically reallocate budgets and set bids for optimal performance in engagement campaigns. The Social ActEngine(TM) also tests and prioritizes each ad within each campaign to ensure maximum efficiency.
Clickable's Facebook Advertising Suite also introduces hourly syncing of all data with Facebook to enable real-time insights and optimization. The Facebook Advertising Suite is part of Clickable's flagship Pro tool, an award-winning technology for managing advertising performance across Google, Bing and Facebook.
"As we took on more campaigns, we looked for a tool to improve performance and save time," said Greg Reardon, co-founder of LOWFAT, an online marketing agency and Clickable customer. "The tool is easy to use and the team is fantastic, resulting in huge productivity gains and growth for our agency."
"Clickable continues to answer the call from advertisers and agencies seeking automation and intelligence to launch and manage more successful Facebook campaigns," said David S. Kidder, Clickable co-founder and CEO. "Clickable will continue to invest aggressively in transformational tools to make serious Facebook marketers faster and more effective."
In addition to the Social ActEngine(TM), Clickable's Facebook Advertising Suite has already introduced this year several unique tools to empower Facebook advertising professionals, including:
● The Ads Builder, which enables advertisers to create and deliver up to 8,000 ads at once from combinations of images, ad copy and target audiences -- enabling proper campaign setup, testing and deployment at scale.
● The Media and Target Libraries, which allow marketers to easily store and manage assets for future use with intuitive tagging and descriptions -- and even manage performance across campaigns by optimizing towards images and targets.
● Ad Rotation, which automates delivery of ad variations to counter ad fatigue and campaign performance decay.
● Integration of Facebook engagement metrics and Clickable's proprietary conversion tracking, enabling robust performance tracking and reporting.
Clickable Pro, including the Facebook Advertising Suite, is available as either a standalone tool, or as part of a Clickable Solution. Clickable Solutions include dedicated PPC and social advertising experts who work with you to create and manage custom programs that drive superior advertising performance across Google, Bing and Facebook.
Clickable Pro and Solutions are ideal for both dedicated Facebook advertising professionals, as well as search-engine marketers seeking to expand their pay-per-click investment to social channels like Facebook.
Other select clients include Heatwave Interactive, Hachette Book Group and Ann Taylor. Clickable also powers SearchManager and YourBuzz, which are leading search, social and online reputation-management solutions from American Express OPEN.
Links
● Watch Video: Clickable's Facebook Video Tour
● Sign Up:Talk To A Facebook Advertising Specialist From Clickable
Meet Clickable At Industry Conferences
Clickable co-founder and CEO David Kidder will deliver the opening keynote presentation at the OMMA Social conference in San Francisco on October 27. Kidder also will address Business Insider's Social Media Analytics conference in New York on November 1.
About Clickable
Clickable is the all-in-one solution that makes online advertising Simple, Sophisticated and Profitable™. Clickable reduces the time and complexity of managing multiple ad networks, such as Google, Bing and Facebook. Clickable is powered by dedicated search and social advertising specialists, along with award-winning PPC bid management and conversion tracking technology. Clickable empowers advertisers to maximize their ROI with complete transparency. That's why customers often say: "Clickable is like having a trusted expert always by your side ensuring success." Visit http://www.Clickable.com, or follow at http://www.twitter.com/clickable or http://www.facebook.com/clickable.
Facebook® is a registered trademark of Facebook Inc.
Contact:
Max Kalehoff
Clickable, Inc.
212-798-1476
mkalehoff(at)clickable(dot)com
###