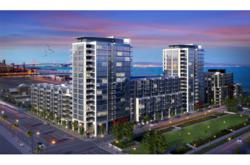 With multiple plans for development in Mission Bay, the neighborhood is going through a strong revitalization at the moment...now is the best time to get involved in the area.
(PRWEB) September 28, 2012
Climb Real Estate Group has claimed the current title of #1 outside sales agency at Mission Bay's Madrone with over 45 homes sold in the first phase of this exciting new construction community. As the long anticipated new development opens its doors to residents this past month, Climb is excited to spread the word about one of the most in-demand developments in San Francisco. While many of the units have been under contract since Summer 2011, the common areas and residential units were opened up for walk-throughs and first hand impressions this month, and the reactions could not have been more positive. Given that many of the new residents decided to buy in Madrone on floor-plan diagrams and mockups alone, most guests have remarked that the real thing has far exceeded their expectations. Now, with more unit sales at Madrone than any other general brokerage, the agents at Climb Real Estate Group hopes to continue its strong commitment to the development and neighborhood.
70% of the original 329 units have entered contract at Madrone, leaving only 98 units remaining. Interest for Madrone has come from a variety of buyers, but many of the residents at this time hail from the tech industry, and are typically looking for one bedroom units, a convenient location for commuting to the South Bay, and strong investment potential in the property. With multiple plans for development in Mission Bay, the neighborhood is going through a strong revitalization at the moment, and with more parks, schools, and local businesses expected to grow within the next decade, now is the best time to get involved in the area.
Climb's own Broker Associate, Vi Pavlicevich, who represents the Mission Bay neighborhood, moved in to the new development this month with her husband and one and a half year old son. According to Vi, "the units along Third street represent the best value at this time, however, there are still many units throughout the complex that offer plenty of space, comfort, and views." Vi has sold five units at Madrone, a majority of which have been one bedrooms. Phase 1 of the building, which offers southern exposure and park and water views, was released first and has seen 152 units enter in to contract, with 23 units still in reservation. Phase 2 units, which will offer city, bay, and bridge views, has 47 reservations, and 123 units still available.
Like many residents, Vi Pavlicevich purchased her unit back in 2011 based on the floorplan and mockups, but saw an impressive investment opportunity at the time. At $550 per square foot, Madrone was priced competitively, compared to the average of around $850 per square foot at One Rincon Hill, and other downtown highrises. At such a reasonable price per square foot, Vi was able to purchase a more spacious unit, a real plus for her young son, who has been enjoying the ample space for play time. Since the grand opening, Madrone's sales office has been filled with single people and families alike coming in from the street to see available units, check out the lobby and amenities, and get a sense for the new development.
With proximity to Potrero, Mission Bay, and South Beach, it's no wonder Climb has shown a consistently strong presence in San Francisco's most flourishing neighborhoods. Agents who work with Climb are likely to have roots within the neighborhoods in which they sell, and can provide experienced insight into the best locations and best deals on homes where they live. With more agents focused on new construction in Mission Bay, SOMA/South Beach, and Potrero than any other agency, Climb Real Estate Group helps clients create the most realistic game plan based on the best quality information.
About Climb Real Estate Group: Climb Real Estate Group is a full-service general real estate brokerage with an emphasis on the purchase, sale, rental and marketing of select residential new developments, commercial and premier resale properties. We specialize in condos, high rises, lofts and homes in South Beach, SOMA, South Beach, Mission Bay, Rincon Hill, Potrero Hill and Central Waterfront. Our focus is on urban-style properties, specializing in new construction, historic loft conversions, live/work spaces, Victorian flats, modern condominiums, and stylish single-family homes. We also have exclusive access to Off-Market Listings, Foreclosures and Developer Specials.