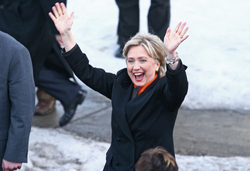 The World of Women Ain't No Joke... Beautiful, Intelligent, And Powerful... In An Unforgiving World
Miami Shores, Fla. (PRWEB) July 3, 2008
Keith G. Wright, award winning author and creator of AintNoJoke.com, has launched a new video in support of America's Women and the Vice Presidency of Hillary Clinton, while warning against the demise of America's Women, and the imminent death of the Black Woman.
Wright believes that America will never realize its former greatness when our girls, daughters, and mothers face increased degradation in our own nation. In his book, "The World Of Women Ain't No Joke", he says, "America doesn't become a great nation and world leader again, without developing a culture that supports, encourages, and honors women. For now, the demise of America's women and the imminent death of the Black woman continue its path."
"As few women progress, many more are losing ground… the respect of a nation, the respect of a culture... this is where women are losing. As America's women helplessly endure the disrespect of our men, we run the risk of breeding generations of boys and men never understanding or appreciating the value of women. And we are likely raising entire generations of girls and daughters with no sense of womanhood and personal power," says Wright.
Beyond his eloquent speeches, "Barack Obama must signal unity by first uniting with Hillary, and signal real change by selecting Hillary Clinton as Vice Presidential running mate... moving into the Whitehouse with an undeniable force of proven action behind his words," states Wright.
Wright believes there are many things that divide America including Iraq, global warming, healthcare, immigration, education, the economy, but the one thing we can never be divided about is our nation's women. He says, "There is no change in America without first changing the way we view and treat women."
Keith G. Wright outlines and discusses the key issues and challenges that women must conquer:
1) Acquiring financial education and independence, as the corporate Glass Ceiling has gotten lower and thicker to penetrate.
2) Elevating the safety of all women... as every day, four women die in this country as a result of domestic violence. How many pregnant women have to be murdered in America?
3) The elimination of teen porn in our nation's fabric. We must treat a child and a childhood as sacred.
4) Returning to great parenting strategies. It is likely that we are raising an entire generation without appreciation for their mothers.
5) Fending off the imminent death of the Black Woman. "Black women already exist in a broken culture, having to carry the mantle of Strong Black Woman, the double negative effect of being Black and being a woman, in a prevailing environment of violent rap culture, littered with misogynist, sexist, abusive, uneducated, jail-bird, down-low black men... Black Women's progress, their spirit, and their will are being undermined and destroyed daily."
Keith G. Wright insists that "women helping women is everything...women cannot afford to allow historic opportunities for radical change to slip by. It isn't given that a woman ever gets any closer than this." And like Susan B. Anthony, "today's women have to develop an insatiable appetite for women's progress, never satisfied, never indifferent, never apathetic, never ambivalent, never dispassionate, and never wavering, seeking to become leaders of the world... as the lives of women go, so goes the world."
About the Author:
Keith G. Wright resides in Miami Shores, Fla. He is the founder and president of Beyond Color Foundation, an organization devoted to racial harmony, multicultural unity, and empowering everyday people to live famous lives. "The World of Women Ain't No Joke" is the third book in his "Ain't No Joke" series, which seeks to save families, empower parents, honor women, and inspire teenagers to lead exceptional lives.
"The World of Women Ain't No Joke... Beautiful, Intelligent, And Powerful... In An Unforgiving World" (ISBN 0977834220, Ain't No Joke Books, Inc, 2008) available now through local and online bookstores. For more information, visit http://www.aintnojoke.com.
Publicity contact:
(786) 493-0319.
Email: KeithGWright @ yahoo.com
Special ordering for educational institutions.
###