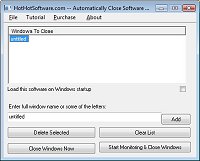 Works as advertised, a great time saver.
Los Angeles, CA (PRWEB) March 02, 2013
With the proliferation of popups when browsing the internet, popups can become distracting and a nuisance. This utility was designed by HotHotSoftware for developers and computers users who need an easy and quick way to close multiple browser windows or multiple files at once.
Users can specify full or partial window titles to close. As an added convenience, the application can be set to run in the system tray to automatically watch for certain windows (applications) to control which popup windows to automatically close.
For more information, please click here.
About HotHotSoftware.com
HotHotSoftware is a company that specializes in developing innovative software applications, solutions and utilities that help shorten development time, increase computer user productivity and enhance the overall computer use experience. Applications range from flash based applications, to Microsoft Excel, Word, and Access plugins, to sophisticated utilities.
HotHotSoftware has been featured in various online and offline publications, websites, and editorial sites. For complete details, visit hothotsoftware.com.
In addition, companies that are looking for unique custom software and solutions can contact HotHotSoftware for a quote.