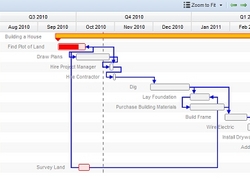 Although there are many distributed project management tools, many like Google Apps are siloed, where as HyperOffice's project offering is well integrated with the collaborative functions - David Coleman, Collaborate.com.
Rockville, MD (PRWEB) October 27, 2010
HyperOffice today announced the addition of powerful new project management features to its award winning cloud based collaboration software suite.
HyperOffice integrates a range of online tools for teams to collaborate and work together effectively – email, document collaboration, Intranets and Extranets, shared calendars and contacts, web conferencing, databases and web forms; forums, polls and wikis; user rights, backup, and more.
With this update, HyperOffice offers the first cloud based project management solution designed for SMB's that is simple yet powerful enough to manage business grade projects in a collaborative environment. What started out as a shared tasks list designed to synchronize with Outlook tasks, has gradually evolved with added horsepower in every subsequent update - milestones, notifications, drag and drop, mobile task management, Gantt charts etc. The latest update adds task dependencies and interactive Gantt charts to an existing list of project management features and collaboration applications that SMB's can immediately put to use.
"We use projects and shared tasks to assign work and keep track of activities for our employees and independent contractors. Task dependencies are a huge enhancement for us because my "to do" lists are now an automated and interactive project management tool for the entire team. I can set up projects and tasks of any duration, and anyone in my group can be informed when their task is due or when another task is complete and theirs can begin." said David Marlatt, AIA, of DNM Architect. "I love the interactive Gantt charts because they really speed up setting up and managing my projects. Now, I can just drag and drop to get activities in the right order and drag the task bar to adjust the schedule."
Details of the new features can be seen at http://bit.ly/aq92WS
"Although there are many DPM (distributed project management) tools out there, many like Google Apps are siloed, where as HyperOffice's project offering is well integrated with the collaborative functions. There are many choices in the market, many from larger vendors who have just downsized their enterprise applications, where as HyperOffice was built from the start to be a SaaS tool for SMBs." said David Coleman, Managing Director of Collaborative Strategies (an consulting and analyst firm that has followed collaboration for the last 20 years). "Small businesses generally don't have much time or inclination to find the best of breed tools and then deal with integration (more than just a common sign-on) HyperOffice offers them another choice." he added.
HyperOffice offers small and medium businesses a compelling alternative to Google Apps, which omits project management features, a critical component for team collaboration. The next best alternative for SMBs is to either purchase a project management solution separately, or research the dizzying array of project management add-ons in Google Apps' Marketplace. This approach requires that the customer solely assume the risk of putting together a number of applications built by different vendors together to meet their requirements. But as discussed in Leena Rao's recent article at TechCrunch many solutions in the Marketplace integrate with Google Apps on a very superficial level, in many cases a mere common sign on.
"Marketplaces are mushrooming everywhere. SMBs do not have the expertise or resources to go through the entire software buying cycle or invest in solution integration every time they need to add a new component to their collaboration toolkit," says Shahab Kaviani, Executive Vice President Marketing & Product Marketing, HyperOffice. "Rather than contending with multiple vendors, diverse user interfaces and loose integration, SMB's can focus on their business and drive up their productivity by selecting a tightly integrated suite of collaboration applications offered by HyperOffice. One vendor, one interface for all your collaboration needs and sole accountability for your satisfaction," adds Shahab.
This new update makes HyperOffice one of the most comprehensive solutions in the cloud messaging & collaboration market, with equally robust business email, collaboration, document management, intranet and project management features. Businesses looking at BaseCamp or others may want to consider it as an alternative, because these suites may bring powerful project management features, but they lag in other areas, which remain important for team collaboration.
This update is available to all users immediately.
About HyperOffice
HyperOffice Inc., (http://www.hyperoffice.com), is a leading provider of online messaging & collaboration software providing SMBs productivity tools to collaborate, communicate, and manage information from any browser or mobile device. First launched in 1998, HyperOffice was named by PC Magazine as a "Top 10 Productivity Tools" in 2010, for its simple and comprehensive tools to help distributed teams collaborate.
Note - HyperOffice credits Mats Bryntse Consulting, a developer of scheduling and Gantt charting solutions, and HyperOffice's technology partner in building interactive Gantt charting capabilities.
HyperOffice Contact:
Shahab Kaviani
Executive Vice President, Marketing and Product Marketing
301 255 0018 ext 111
press(at)hyperoffice(dot)com
###