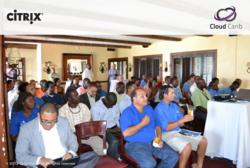 Participants experienced the latest Executive Mobility solutions offered jointly by Citrix and Cloud Carib, over cocktails and Hors D'ouvres
Nassau, Bahamas (PRWEB) August 02, 2012
Cloud Carib, a Citrix certified Solution Advisor in The Bahamas, hosted a cocktail event on Thursday 26/7 at Luciano's restaurant of Nassau. The purpose was to demonstrate the latest executive mobility solutions offered jointly by Cloud Carib and Citrix Systems, as they were recently revealed at the San Francisco Synergy 2012 event in front of a record-breaking audience of 6500 attendees.
In an attempt to avoid the summer heat, the event was held in the much cooler evening, over cocktails and Hors D'ouvres. More than 45 Bahamian IT professionals participated in the event, asking questions and engaging with the presenters. Ryan Austin, Citrix Business Manager with Cloud Carib, demonstrated the Virtual Computing Environment, which allows executives to roam seamlessly between devices when accessing their organizations' applications.
Mariano Colon, System Engineer with Citrix for the Caribbean, presented the Citrix vision for the Executive of the Future, and discussed the cost savings and operational efficiencies organizations can realize through the latest cloud computing technologies.
Matt Allen, Sr. Systems Engineer with NComputing, showed how the latest N400 devices when used with Citrix VDI solutions, can replace PC's for a low, sub-$150 price-point, while simplifying management and significantly reducing BEC energy bills, as each device only consumes 5W of power.
Cloud Carib would like to thank leading organizations such as Cable Bahamas, Credit Suisse, Doctors Hospital, Freeport Container Port, Bahamas First Insurance, Templeton Wealth Advisors, Synergy Bahamas, Custom Computers, Dartley Bank and many more, for attending the cocktail event. We would also like to thank our partners Citrix for making the event possible.
A recording of the presentations is available to qualified media representatives and registered attendees who could not make it to the event, by contacting citrix(at)cloudcarib(dot)com.
A new range of monthly monitoring services for existing Citrix environments in the Caribbean is now being offered by Cloud Carib. For a limited time, existing Citrix customers can apply their existing renewal budget to trade-up to XenDesktop, through the Trade-Up program, with savings up to 70%.
The next Cloud Carib technology briefing will take place this fall; details will be announced on the official website http://www.cloudcarib.com, as well as Facebook:facebook.com/cloudcarib and Twitter: twitter.com/CloudCarib.
About Citrix Systems, Inc.
Citrix Systems, Inc. transforms how businesses and IT work and people collaborate in the cloud era. With market-leading cloud, collaboration, networking and virtualization technologies, Citrix powers mobile workstyles and cloud services, making complex enterprise IT simpler and more accessible for 260,000 organizations. Citrix products touch 75 percent of Internet users each day and it partners with more than 10,000 companies in 100 countries. Annual revenue in 2011 was $2.21 billion. Learn more at http://www.citrix.com.
About Cloud Carib Ltd.
Cloud Carib, a Citrix-certified and VMware-certified Enterprise partner in the Bahamas, offers a range of world-class cloud computing and IT solutions, with a core focus on infrastructure and application virtualization. Headquartered in Nassau and servicing the Caribbean region, Cloud Carib enables huge cost savings and operational improvements in organizations of all sizes. The company provides cloud computing solutions and services to customers in the government, financial, hospitality and healthcare markets.
For more information, visit http://www.cloudcarib.com. Connect with Cloud Carib on twitter: @cloudcarib and Facebook: facebook.com/cloudcarib
Citrix® is a trademark of Citrix Systems, Inc. and/or one or more of its subsidiaries, and may be registered in the U.S. Patent and Trademark Office and in other countries. All other trademarks and registered trademarks are property of their respective owners.