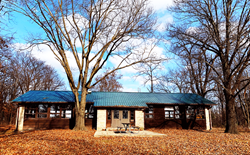 "I have long been fond of Clover Woods and want as many people as possible to come and see the event space and consider bringing a group to enjoy staying with us."
(PRWEB) January 09, 2019
United Camps, Conferences & Retreats (UCCR) is pleased to announce new Site Director Susan Souhrada to staff Clover Woods Camp and Retreat Center based in Madrid, Iowa. Souhrada stepped into the new role December 20 and reports directly to UCCR's Chief Operating officer Kent Shelby and CEO Mike Carr.
Souhrada holds a B.A. in Biology from Luther College (IA) and an M.S. in Nutrition from Iowa State University. Her professional experience includes food service and many research positions at Iowa State University along with the position of Product and Process Improvement Manager for the Burke Corporation which is a division of Hormel Foods.
Souhrada's small business experience includes carrying out grounds-keeping operations for various county and privately owned properties in Iowa, an endeavor in which she has been involved for more than 20 years. Additionally, Souhrada has worked on the outdoor crew for a painting contractor.
"We are thrilled to bring Susan on-board, she has a wealth of pertinent experience and will surely serve Clover Woods Camp and Retreat Center and customers well," says Shelby, COO. "Most exciting to us is her long-term dedication to Clover Woods Camp and Retreat as she has lived with her family next door to the camp for years and have volunteered many hours to watch the camp thrive," continued Shelby.
"I have long been fond of Clover Woods and want as many people as possible to come and see the event space and consider bringing a group to enjoy staying with us." Souhrada says.
For more info on Clover Woods Camp and Retreat Center visit uccr.org/cloverwoods or for information on Camp Property Management Services visit camppropertymanagement.org or call 800-678-5102