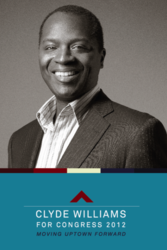 I have dedicated my professional career to helping people and solving problems and will continue to do so when elected
New York, New York (PRWEB) June 13, 2012
Today the Campaign for Clyde Williams, candidate for Congress in the 13th District, has initiated , "Latinos for Clyde" an online and grassroots outreach effort intended to secure Latino votes within the district.
Deputy Campaign manager Phil Colón (co-founder of Voto Latino) called the initiative "a comprehensive local effort to engage Latinos in their communities and involve them in the upcoming election through voter registration, volunteering and voting." Williams will utilize the platform to continue to speak on relevant issues such as education, immigration and small business development.
"I had the pleasure of working closely with Mr. Williams in 1998 when he was at the Clinton Foundation," said Jorge Cano-Moreno, founder and publisher of Urban Latino Magazine, a leading Latino youth publication and online portal. "We promoted a DVD project that provided free prep testing for Black and Latino kids for state educational exams Regents and SAT. The program was a huge success and I witnessed Clyde's passion for our community first hand and this is why I am supporting Clyde's campaign for Congress."
Congressional candidate Williams has also been a supporter of small business development throughout his career, most notably when he created the 'Harlem Small Business Initiative' in 2001 at the Clinton Foundation. The program, now replicated nationally, provided pro-bono consulting services for small businesses including technical and managerial assistance and access to capital. Small businesses account for 80% of the jobs created in the District. Latinos are leading that charge by starting businesses at a rate three times faster than any other group.
One such business is Camaradas Del Barrio, a pub and restaurant located on First Avenue that has been open for over 7 years. "Business owners are the lifeblood of this community," said owner Orlando Plaza. "We employ and serve families who have lived here all their lives. Our success is directly tied to the success of our neighborhoods, and Mr. Williams brings the right mix of solutions and know-how to deliver the results that our community so desperately needs."
Along with Mr. Moreno and Mr. Plaza, "Latinos for Clyde" includes other prominent Latinos including: Jose "Jay" Morales, owner of Apt.78 and La Sala 78 in Washington Heights; Former Political Consultant for Mayor Dinkins and former Borough President Fernando Ferrer, Arnold Segarra, renowned DJ and ESPN announcer Bobbito Garcia, and Leo Vasquez, curator of Sound of Art a non-profit arts organization located Washington Heights, just to name a notable few.
"I am grateful for the support of Jorge, Bobbito, Leo, Orlando and every single member of the 'Latinos for Clyde' coalition," said Congressional Candidate Clyde Williams. "This election is not about me, it is about the people in this community. Whether it's Uptown, el Barrio, or the Bronx we're all facing huge challenges right now and we cannot afford to sit back and wait for things to improve. I have dedicated my career to helping people and solving problems and will continue to do so when elected."
About CLYDE 2012:
Clyde Williams declared his candidacy on March 22. The congressional race has attracted national media attention as Williams seeks to unseat 42-year incumbent Charles Rangel in a newly created District. For the first time, the democratic primary will take place on June 26, 2012.
For more information on Latinos for Clyde, please visit: http://www.clyde2012.com/latinosforclyde.