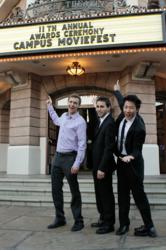 Hollywood, CA (PRWEB) June 27, 2012
Campus MovieFest (CMF), the world's largest student film festival, and special industry guests, announced the winning short movies from its 2011-2012 World Tour. CMF, founded by four students over eleven years ago, has provided over 500,000 participants with laptops, camcorders, and training to create short movies for free.
CMF hosted its red carpet CMF Hollywood Awards at the Globe Theatre at Universal Studios on Saturday, June 23, with special guests including Jack McBrayer (30 Rock), Danny Pudi (Community), Horatio Sanz (SNL), Stana Katic (Castle), Wally Pfister (Inception and The Dark Knight), Anna Camp (True Blood), and host Adam Ferrara (Top Gear). Over 75,000 student filmmakers participated during campus moviemaking events on the CMF 2011-12 World Tour, with 1,000 student filmmakers from 100 participating campuses invited to the culminating event. The award-winning films (viewable at http://www.campusmoviefest.com/hollywood) included:
Best Picture: THE STRONG ONE, North Carolina State University
Best Comedy: MAN CRUSH, Indiana University
Best Drama: VIOLET, New York University
Elfenworks Social Justice Category TAKING A STAND, Rutgers – New Brunswick
CMF 3D: THE TIFF by Matt Lincoln, New York University
CMF also awarded a series of its Golden Tripod Awards for special categories, including:
Best Actor: Landon Scott, MAN CRUSH, Indiana University
Best Actress: Alix Cuadra, IN THE FOREST OF DARKNESS, San Francisco State
Best Cinematographer: VIOLET, New York University
Best Director: Nicholas Sailer, THE STRONG ONE, North Carolina State University
Best Editing: LOOK WHO'S COMING TO LUNCH, Rowan University
Best Soundtrack: EAST BAY DILLINGERG, San Francisco State University
Best Special Effects: THE VESTIGE, Cal Poly Pomona
Best Story: EMPTY PAGES, La Salle University
The Poo Industries Lifetime Achievement Award: Punchkiss Productions, San Diego State University
CMF Hollywood featured a full slate of unforgettable events, including screenings of more than 200 student short movies on the Universal lot, workshops led by industry leaders, advance studio screenings from Universal and Disney, networking opportunities, a College Battle of the Bands finale concert, and more. A Resumé and Reels program provided students with one-on-one opportunities to meet industry luminaries for advice and guidance. The events were made possible thanks to Panasonic, Lenovo, Universal Pictures, Walt Disney Studios, and more.
"We began Campus MovieFest with the goal of letting students tell their stories on the big screen," said David Roemer, Co-founder of Campus MovieFest. "As we now enter our second decade of CMF, we couldn't be more thrilled by the extraordinary events showcasing the passion of the student filmmakers, the quality of the short movies, and the exceptional support from the industry leaders and premier brands."
Other highlights of the events included:
Campus MovieFest and Lenovo announced the "Seize the Night" Film Your Own Ending Competition. The competition empowers student filmmakers from around the globe to create alternate endings to Lenovo's acclaimed "Seize the Night" ad supporting the company's recent Ultrabook "Book of Do" advertising campaign, with production budgets provided to fifteen filmmaking teams and over $30k in cash and prizes.
The second annual CMF 3D student film festival again provided students with the latest Panasonic 3D camcorders, training from the International 3D Society, and support to create their own 3D short movies.
The CMF Distinguished Filmmakers Network, which comprises the top CMF filmmakers, unveiled over $100,000 in filmmaking opportunities for its participants.
The Campus MovieFest 2012-13 World Tour kicks off in August 2012. Stay tuned to http://www.campusmoviefest.com for all the information.
About Ideas United and Campus MovieFest
Ideas United began 11 years ago when four students at Emory University created Campus MovieFest (CMF), which has since become the world's largest student film festival. CMF offers equipment and training to students at participating campuses to create their own five-minute movies in a week all for free. Over 500,000 students have shared their stories, earning over $2 million in prizing and seeing their films on big screens around the globe, at the prestigious Cannes Film Festival, and on millions of smaller screens – including in-flight, on television, and online. Tapping into this pool of talented young filmmakers, IU created its Distinguished Filmmakers Network and launched IU Productions to provide paid, professional opportunities to its filmmakers, and to provide high-quality, authentic content to its partners. Find out more at http://www.campusmoviefest.com and http://www.iuproductions.com.
Editor's Note
All films can be viewed at http://www.campusmoviefest.com/hollywood
Media Contact:
Campus MovieFest
Jessica Reynoso, 404-939-3619, media@campusmoviefest.com
# # #