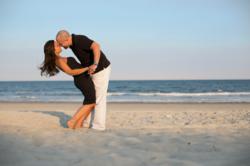 The boudoir collection is a way of celebrating womanhood in an artistic and classy way.
Loris, South Carolina (PRWEB) January 31, 2013
Valentine's Day is an important holiday for couples in love. More often than not, it is a day that is seldom recorded with nothing more to remember it by than keepsakes or memories. Today's trending gifts include themed photography and video highlight reels intended to celebrate their love.
Date night paparazzi and video
For lovers who are married, engaged or dating, date-nights never get old. Those precious few hours that are spent enjoying each other's company over an enchanting dinner, romantic picnic on the beach or a quiet intimate walk can be turned into a five-minute Hollywood-style movie trailer. Hiring a videographer to become a camouflaged fly- on-the-wall has the potential of being that one unique gift that keeps giving forever and ever.
For couples that are not into video, paparazzi photography is the way to go. The loved one is surprised by a photographer waiting at an arranged location. Intimate locations that mean something to couples like the place they first kissed, or where the groom proposed to his wife are popular choices.
Myrtle Beach offers an incredible oceanic backdrop for love, but if preferred, couples can take a walk outside and bathe their senses in some earthy elements like forests or streams.
The sessions are short and sweet, the photographer captures the surprise, the moments relived and captured and then delivered as a lasting memory of that day.
Boudoir, on oldie but a goody!
Wives, fiancées, and girlfriends are often celebrated for being beautiful and sensuous. "The boudoir collection is a way of celebrating womanhood in an artistic and classy way," says photographer, Meganpixels Parker.
Another world can perhaps be revealed through certain shadows and shades of a woman's body – maybe even 50 shades! At times before her wedding the bride will ask the photographer to take some fun photos for the groom's eyes only. These may consist of having certain parts of the body being wrapped in the sheets of their honeymoon suite or posing in sexy undergarments similar to those of a Victoria's Secret model. Whether a wallet keep-sake or an enlarged print covering an entire wall boudoir, photography is a sweet taste of intimacy.
Packing a photographer
For those planning a Valentine's getaway, "packing a photographer" could potentially be the most important aspect of a trip other than the loved one who is accompanying you.
Myrtle Beach and the Grand Strand is a Destination hotspot where exciting memories can be made and preserved forever!
CMMS Studio is offering packages and sessions with photographers to chronicle vacations, Valentine's Day included. Couples increasingly want more sophisticated images to share on social media and they realize that an iPhone may not catch that perfect moment. When photos were relegated to dusty albums and slide shows, getting quality pictures perhaps wasn't that critical. That's not so when sharing images with hundreds—or thousands—of Facebook friends and Twitter followers.
CMMS Studio offers a "Together Package" for couples that includes time with a professional photographer, retouching of images and perks such as photo books, image CD's and other popular a la carte items.
Couples hire photographers for their entire vacations because they just want to enjoy the destination without them having to capture the images or experience. When on their vacations or honeymoons Couples appreciate having one less thing to worry about.
About CMMS Studio
Located in Loris, South Carolina, Custom Multi-Media Solutions, Inc. was founded and incorporated with the objective of providing cutting-edge multimedia services ranging from Photography and Video to Graphic Design at affordable rates to people everywhere. CMMS Studio offers a wide variety of photographic services from Commercial Modeling to General Portraiture. We believe that every customer is unique and has specific needs. We provide personalized attention to all of our clients to help meet their personal budget. Our professionals include a video production team that films weddings, dance recitals and family events as well as producing high quality TV commercial spots, documentaries and industrial/training videos. CMMS Studio offers Graphic Design solutions for small and large business with three designers that can design anything from business logos to signs, brochures, billboards and web sites. No job is too large or too small.