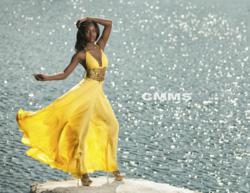 Haute Couture should be fun, foolish and almost unwearable.
Loris, SC (PRWEB) March 27, 2013
South Carolina is the epicenter for Beauty Pageantry and the competition is fierce. All the contestants need to submit a portfolio for competition. These portfolios are subsequently used for submission to modeling agencies. Beautiful girls and couture fashion complement both fashion and striking portfolios.
CMMS Studio has been working with Tanya-Marie Design, a couture fashion design and retail shop in the Miami Fashion District highlighting the artistry of these unique fashion pieces. Finalists from the Miss South Carolina USA pageant have been showcased wearing this luxurious clothing.
During the past month, we have seen designers from New York to Paris take their bows as the autumn/winter womenswear season played out across the fashion capitals. Fashion would not be the same without Haute Couture. (Pronounced oot-cooture). Haute Couture is a French phrase for high fashion. Couture means dressmaking, sewing, or needlework and Haute means elegant or high, so the two combined imply excellent artistry with the fashioning of garments. The term indicates the business of designing, creating, and selling custom-made, high fashion.
The petites mains, are the "little hands" of the thousands of seamstresses, embroiderers and other artisans who have produced sumptuous, precision-made attire since Parisian couture houses first appeared in the mid-19th century. They deserve even greater accolade: Along with daring and brilliant designer visions, the most striking thing about haute couture is the absolute perfection of the handwork. The "made to measure" exclusive clothes are virtually made by hand, carefully interlined, stay taped and fitted to perfection for each client.
France has been at fashion's forefront since the 17th century, when the court of Louis XIV set European standards of elegance, craftsmanship and excess. A century later, Marie-Antoinette's dressmaker and milliner, Rose Bertin, became so influential she was nicknamed Minister of Fashion. But the first true haute couturier is widely considered to have been Charles Frederick Worth.
The English draper founded his fashion house in 1858, presenting collections of model garments from which clients could choose. "My work is not about executing [the client's desires], it's about inventing them," Worth said in 1871. Eventually his label was a copy of his signature. The era of couturier as artist and arbiter had arrived.
Haute couture began a slow decline in the 1950s, accelerated by the baby-boomer youth quake, the radical change in lifestyle that followed and the rise of designer ready-to-wear. Haute couture is an experimental and creative laboratory whose positive image translates into the lesser priced, but still costly designer label known as Prêt-à- Porter or ready to wear.
The fabrics available to couture designers are luxurious and include the latest novelty fabrics and expensive silks, fine wools, cashmeres, cottons, linens, leather, suede, other skins or furs. In many cases, the design and color of a cloth, may be exclusively reserved for that designer.
Outside specialists make accessories either by design or inspiration. Hats, trimmings, buttons, belts, costume jewelry, shoes and innovative pieces are finely crafted to complement the fabrics and fashion ideas being created. Superb craftsmanship, a fresh idea and publicized internationally renowned names all command a price to match. Those able to afford couture are happy to pay for exclusivity and the privacy afforded by the system.
Sea tones are the colors for this season. Deep ocean blue, sea foam or jade green ensembles were seen throughout the fashion run way shows for 2013. Metallic's are still in high demand coupled with bold accessories and sheer fabrics.
Cmms Studio (Custom Multi-Media Solutions) has highlighted these trends in their portfolio work which can be viewed on their Facebook page and web site and on Tanya-Marie Design's Facebook page.
About CMMS Studio
Located in Loris, South Carolina, Custom Multi-Media Solutions, Inc. was founded and incorporated with the objective of providing cutting-edge multimedia services ranging from Photography and Video to Graphic Design at affordable rates to people everywhere. CMMS Studio offers a wide variety of photographic services from Commercial Modeling to General Portraiture. We believe that every customer is unique and has specific needs. We provide personalized attention to all of our clients to help meet their personal budget. Our professionals include a video production team that films weddings, dance recitals and family events as well as producing high quality TV commercial spots, documentaries and industrial/training videos. CMMS Studio offers Graphic Design solutions for small and large business with three designers that can design anything from business logos to signs, brochures, billboards and web sites. No job is too large or too small.