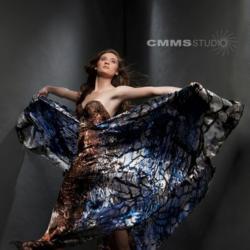 Be Ready To Be Noticed
Loris, SC (PRWEB) February 27, 2013
South Carolina is the epicenter of Beauty Queens with the largest concentration of Beauty Pageants in the world. It was a perfect fit for CMMS Studio's photography team to work with Tanya Marie, as her unique and glamorous clothing line is a perfect match for the high end photography work coupled with some of the most beautiful girls in the country.
Tanya Marie designs are one of kind creations. When a woman wears a Tanya Marie creation, she must "Be ready to be noticed!" It is not just a dress; it makes a statement demanding attention at first sight. Her effortless, bohemian chic gives an effortless red carpet look. These one of a kind creations are constructed by her hands, each given a part of her inner self where no one piece can ever be favored in her eyes. Each and every look holds a special place in her heart. This intimate expression is what makes her stand out from other designers.
When encountering a TM dress, the intricate details and flowing movement from the fabric she drapes together create ultimate drama. Her vision is instantly seen and a woman has no choice but to work that dress! Women looking amazing, taking on a confidence that reflects inner beauty.
Tanya has years of experience as a gifted prodigy in design and as a celebrity stylist, who is now a business owner bringing all her talents in an elegant, well-appointed showroom for the world to see. Her clients are fiercely loyal; she is generous with her love, shares her happiness, and keeps consistent to offering exceptional styling. Her open-minded nature is a trait that sets her aside from the rest. She encourages input, feedback, design suggestions and listens to what suits her client's taste; she creates custom designs especially for them. Tanya feels everyone has a creative side and allows them to express it and share in the design process.
Today she has set new limits to challenge herself and her brand, opening up a flagship store in the new Design District. Her goal is to be an addition to stores who buy her line, complimenting the merchandise never competing. Her designs will bring life to a rack. Tanya gives much thought and consideration for who will be the best fit for her style. Her line is walking art with the ever-present exclusive and high-end touch.
If you have one TM in your closet, we are confident you will be hooked and go to any extreme to get another piece for your next event.
CMMS Studio will begin photographing beautiful South Carolina models wearing Tanya Marie Designs in February 2013. Once CMMS Studio has introduced Tanya Marie to South Carolina, she will be providing her amazing designs to CMMS Studio for exclusive Pageant Portfolio shoots.
Beauty Queens and Pageant contestants must submit a Portfolio and a Headshot, also known as a Photogenic. These two are judged on a point system along with other categories such as talent, swimsuit, evening gown, and interview among others. CMMS Studio has consistently helped win perfect point scores of 10 in the photography category, which in many cases will bring the crown home.
CMMS Studio will be offering exclusive shoots to select clientele who wish to gain a competitive edge over their competition by enhancing their portfolios with an exclusive CMMS Studio photo shoot featuring one of a kind fashion designs from Tanya Marie.
As they say in the South, "Welcome, Miss Tanya!"
About CMMS Studio
Located in Loris, South Carolina, Custom Multi-Media Solutions, Inc. was founded and incorporated with the objective of providing cutting-edge multimedia services ranging from Photography and Video to Graphic Design at affordable rates to people everywhere. CMMS Studio offers a wide variety of photographic services from Commercial Modeling to General Portraiture. The Company believes that every customer is unique and has specific needs. CMMS Studio provides personalized attention to all clients to help meet their personal budget. The CMMS Studio professionals include a video production team that films weddings, dance recitals and family events as well as producing high quality TV commercial spots, documentaries and industrial/training videos. CMMS Studio offers Graphic Design solutions for small and large business with three designers that can design anything from business logos to signs, brochures, billboards and web sites. No job is too large or too small.