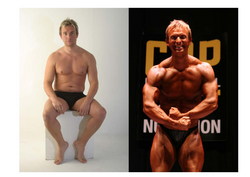 Scott took the whole body building venture very seriously
(Vocus) January 20, 2009
When ex-Corrie soap star Scott Wright decided to turn himself into a beefcake muscleman last year he turned to former bodybuilder Kerry Kayes for assistance. Kerry put together a programme of specialised nutritional supplements and exercises, and after 12 weeks of hard work Scott had honed up his body so he was able to pose at a National Bodybuilding Competition alongside established bodybuilders.
Scott managed to completely change his body shape. He shed two stone in weight and his body fat ratio went down from 25% to 6%. His waist shrunk from 36.5 down to 29 inches, while his chest expanded from 42 to 45 inches. He also increased both his biceps and quads by 2.5 inches.
"Scott took the whole body building venture very seriously," said Kerry Kayes. "He did weight training four days per week and did some form of cardio activity every day as well as completely overhauling his diet. The end result was testament to all the work he put in."
Now CNP Professional, Kerry Kayes' own sports nutrition company, has introduced the Scott Wright Body Transformation Stack incorporating all the products that helped Scott achieve his body building goal. The supplements assist in maximising muscle growth and protecting the body from the rigours of hard gym work and weight training.
The stack includes protein shakes, high protein meal replacements, powders and capsules containing high potency vitamins, minerals, antioxidants and ZMA and EFA's for optimum health, plus the latest in creatine supplementation to help further promote power, strength and size.
CNP has also made available the exercise and diet regime followed by Scott so that would-be body builders have a ready-made programme to follow.
"If you're serious about body building and want to kick start your body into action then I'd really recommend following this programme," says Scott Wright. "It was a lot of hard work but I really changed my body shape dramatically over a 12 week period. I know it wouldn't have been possible without using the CNP products and following Kerry's advice. While training I actually became fitter and healthier than I'd ever been."
The stack includes:
1 x Pro-Peptide bag 2.27kg (35 servings)
2 x Pro-MR boxes of meal replacements (each box contains 20 sachets)
1 x Pro Recover (16 servings taken after training)
1 x Pro-GF NOx (30 servings taken daily)
2 x Pro-Lipid (a 40 day supply when 6 capsules are taken per day)
4 x Pro Slam (24 vials in total - one vial to be taken immediately before training)
1 x Pro Vital (30 servings taken daily)
The stack is available from http://www.cnpprofessional .co.uk at £328.21 a saving of over £120 on the individual product price of £455.05.
Scott Wright made a documentary following his body building experience which should be aired sometime during 2009 and he is currently working on a book collaboration with Kerry Kayes. He is still keeping himself in shape using CNP Products while pursing his acting career.
CNP Professional is one of the UK's leading sports nutrition specialist companies. For more information visit http://www.cnpprofessional.co.uk, or call +44 (0) 161 320 1212 for sports nutrition advice and +44 (0) 161 320 8145 for sales.
Press enquiries: Toni Turner or Alison Haynes at The Publicity Works
Tel: +44 (0) 1263 761000 Email: cnp(at)publicityworks.biz
Paul Riley, Marketing Manager, CNP Professional: +44 (0)161 320 8145
Photography is available in a choice of formats on request from cnp(at)publicityworks.biz
Notes for editors
CNP Professional is a leading supplier of sports nutrition supplements ranging from protein shakes, protein bars, creatine supplements, meal replacements, mass gainers, weight loss supplements and post work out shakes all designed for the ultimate in sports nutrition.
Kerry Kayes, the founder of CNP Professional is a former national bodybuilding champion. He has been involved in sports nutrition for many years and his dietary expertise has established him as 'the man in the know' to sportspeople worldwide ranging from the Ericsson Round the World Yacht Team, boxer Ricky Hatton, dart's champion Phil 'The Power' Taylor, international strongman Glen Ross and Sean Long of St Helen's RLFC.
CNP Professional supplements are carefully formulated to ensure that the body is able to make best use of the nutrients. Unlike many nutritional supplements, CNP Professional's products are easy to drink.
There are several articles explaining protein nutrition supplements on the CNP website - go to the home page and click on 'nutrition' under the articles section.
###