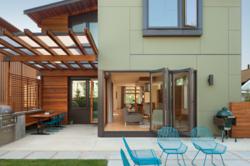 The homeowners wanted to customize their home to better match their lifestyle.
Seattle, WA (PRWEB) March 01, 2013
Coates Design Architects provided design services for homeowners in the Green Lake neighborhood of Seattle, WA. Their 3,320 SF home features top trends for spring and summer of 2013, including: bi-folding doors that provide ease of access from the interior to outdoor living spaces; an alfresco dining area with built-in grill; an outdoor fire pit and gathering space; and a streamlined, modern aesthetic.
"The homeowners wanted to customize their home to better match their lifestyle," says architect Matthew Coates.
Located at the backside of the home are two, large bi-folding doors that open from the corner, granting access to outdoor spaces with ease. This fluid transition from inside to outside is a notable trend that began a few years ago and continues to be popular. The doors are made of glass and allow for natural light to filter into the living area.
Alfresco dining at home is a rising trend for 2013. This home features a casual, exterior dining area with a built-in BBQ grill and bench, warmed by generous amounts of cedar and fir. Shelter from the elements is provided by a custom covered awning made of wood and polycarbonate panels.
Fire pits are another outdoor feature that continues to be highly sought-after. Julie Miles of MODERNBACKYARD selected concrete as the material for a fire pit she designed for this Green Lake home. Its accompanying seating area anchors the fire pit as a functional, backyard gathering space.
Inside of the home, thin profile trim was key to creating a modern appeal. The open-plan living, kitchen and dining area is a refined yet practical space, marked by clean lines and an overall palette of crisp white, softened by natural wood. The homeowners styled their home with modern furnishings from Design Within Reach.
About Coates Design Architects
Coates Design Architects specializes in sustainable design and green building techniques. The firm's managing partner, Matthew Coates, achieved international acclaim by winning the Cradle to Cradle (C2C) Home Design Competition in 2005. Recent achievements include the first LEED Platinum residence outside the Seattle City limits, the LEED Silver Bainbridge Island Kid's Discovery Museum, and the Bainbridge Island Museum of Art, targeted for LEED Gold.
CONTACT INFORMATION:
Meeshka Bernabe
Coates Design Architects
meeshka(at)coatesdesign(dot)com
360.930.2584
http://www.coatesdesign.com