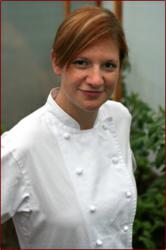 I relish the opportunity to customize the experience for every client and every event. To put it simply, I have a passion for food and this is a great way to share it. -
Chef Jasmine Biernacki
Gig Harbor, WA (PRWEB) June 03, 2012
Chef Jasmine Biernacki of Boutique Artisan Catering, reached out to Crooked Brook, maker of "World's Highest Quality Chef Jackets™", to help her design a custom chef coat.
Jasmine chose women's chef coat Style BSW100, in Charcoal , 100% Organic Cotton Twill fabric, with 3/4 length sleeves and self covered buttons.
About Jasmine Biernacki
Chef Biernacki began her culinary journey with an apprenticeship in Seattle, where she started to focus instantly on becoming a private chef and boutique caterer. What drew her to this part of the culinary field was the relationship that developed between the her and her clients. Jasmine relishes the opportunity to customize the experience for the every client as well as every event. She simply claims, "I have a passion for food and this is a great way to share it."
Jasmine is a classically trained chef, educated at The Culinary Institute of America, and is now living in Gig Harbor, Washington. She has had the pleasure to spend time in some of the finest kitchens on the West Coast such as The French Laundry in the Napa Valley and The Rainier Club in Seattle. Chef Biernacki has also had the opportunity to manage one of the largest catering kitchens in the South Sound for two years. Today, she is applying her education, enthusiasm, and experience in means to provide her clients with honest, local, fresh and sustainable cuisine.
About Boutique Artisan Catering Service
Boutique is a small artisan catering company that focuses on handcrafted items, locally sourced ingredients, and the absolute best quality possible.
Boutique Artisan Catering is happy to provide all types of breakfasts, lunches, and snacks for any meeting, as well as luxe catering for office parties. Regardless of whether your team prefers basic or exotic, they have something to please the pickiest of eaters and true foodies alike. As with all of their menu items, breakfasts and lunches are made from scratch with as many local, sustainable ingredients as possible such as: delicious breakfast selections, sandwiches and wraps, assorted hot items, as well as rice bowls of several different Asian themes; including Korean, Thai, Vietnamese, and Bento.
About Crooked Brook
Crooked Brook is a unit of the atelier division of an art studio that offers full service apparel design, pattern making, sample making, private-label small lot production and embroidery. Since 1989, they've built a strong reputation of providing top-notch apparel designs, patterns, fit and production samples for many brand name catalogs and retailers, as well as wardrobe and costumes for movies, television and theater.
All Crooked Brook branded garments and accessories are proudly made to order in the U.S.A.
Because of their unparalleled attention to detail in tailoring, they were awarded a Supima® licensing agreement. These contracts are not awarded lightly. The applicants must meet requirements insuring the highest level of quality and integrity for any products bearing the Supima® brand.
In addition, Crooked Brook designs and manufactures:
Men's and women's chef coats and uniforms for the world's most recognized chefs, hotels, casinos, spas and resorts as well as alumni chef jackets for the Culinary Institute of America. Each garment can be personalized with the customer's choice of fabric, pockets, buttons, piping and embroidery.
With a design studio in New York City, (the fashion and gastronomic capital of the world) and a production facility in Utica, New York, they've garnered international brand name recognition as the maker of the "World's Highest Quality Chef Jackets™".
Promotional products, items, decorated apparel and accessories, such as; jackets, hats, sweatshirts, hoodies, polo shirts, fleece blankets, sweatshirt blankets, button down shirts, fleece jackets, golf shirts, custom t-shirts, tote bags, and aprons that can be customized with the following apparel decorating methods:
Embroidery
Tackle Twill
Appliqué
Direct to Garment Printing (DTG)
Sublimation
Custom lab coats, uniforms and scrubs for nursing, medical, dental, scientific, engineering, technology & healthcare professionals.
Custom made apparel and accessories for men and women, including but not limited to: suits, shirts, Hawaiian shirts, pants, vests, dresses, skirts, gowns, jeans, boxer shorts, martial arts and yoga outfits.
Crooked Brook ships worldwide. Hours of operations are 7:00 a.m. to 7:00 p.m. EST, seven days a week. Reach them at (315) 733-1992 to learn more.