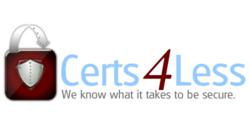 Chatsworth, CA (PRWEB) November 29, 2011
Certs 4 Less is excited to announce Code Signing Certificates for individual software developers. It has been a long time in the making, but the day is finally here where an individual software developer can now qualify for a Thawte Code Signing Certificate. In the past, only businesses or organizations were eligible to purchase this highly respected Code Signing Certificate. Certs 4 Less is pleased to see this new development, and is very excited to offer this new Code Signing Certificate.
Code Signing Certificates are offered on all the current platforms that Thawte supports. This means that individual software developers who develop applications for Microsoft Authenticode, Microsoft Office / VBA, Java, Apple MAC and Adobe Air are able to confidently deploy their software. Many individual developers had approached us wanting to digitally sign their code, but were unable to get a highly respected Code Signing Certificate because they did not have a formal business entity.
To help promote the use of Code Signing Certificates, Certs 4 Less is announcing an aggressive price promotion offering a $99 Code Signing Certificate for both individuals and businesses that need to secure their code. This promotion will run until 12/31/2011. There is no coupon or promotional code required. All Thawte Code Signing Certificates will be $99 for 1 year and $179 for 2 years.
Certs 4 Less is confident that this new offering from Thawte to support individual software developers will be welcomed in the marketplace. Freelance software developers can now secure their code from one of the largest certificate authorities in the code signing arena at an affordable price. This new support for individual developers will help to legitimize more software applications, as well as increase the adoption of individual developed software. Please check out the link below to learn more about Thawte Code Signing Certificates for both businesses and now individuals.
Link For More Information: https://www.certs4less.com/thawtecs.html
About 4 Less Communications, Inc.
In business since 1998, 4 Less Communications, Inc. offers Website and Ecommerce Hosting, Online Backup, SSL Certificates, Code Signing, and Dial-up Internet Access through their related companies. 4 Less Communications, Inc. was founded on the concept of offering the best Internet technologies with less stress, less confusion and for less money. 4 Less Communications, Inc. maintains its own data center and is proudly operated entirely in the United States.
###