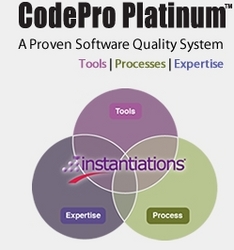 With the increased pressure of software development teams to deliver under extremely tight timelines, CodePro Platinum offers the first complete Eclipse Java solution to maximize code quality
Portland, OR (PRWEB) June 8, 2010
Instantiations®, Inc., a leading provider of Eclipse-based commercial software tools and services to improve code quality, security and productivity, today announced CodePro Platinum™, a comprehensive product and services offering designed to benefit enterprises with Eclipse Java development environments.
CodePro Platinum combines Instantiations' depth of Eclipse Java experience in customizing and implementing automated audit rule sets, uniform coding standards and reporting with tools from the company's CodePro AnalytiX™ code quality and security product line. With one of the strongest Eclipse plug-in development teams in the world, Instantiations will work side-by-side with enterprise software development groups to increase efficiency, accelerate time-to-market, and save organizations money by establishing the CodePro Platinum process.
Instantiations, a long-time IBM Business Partner, will showcase CodePro Platinum at the IBM Rational Software Development Conference, Innovate 2010, in Orlando, FL this week in Booth #215 in the Ready for Rational Pavilion. Instantiations CodePro AnalytiX, as well as its WindowBuilder Pro products are validated "Ready for Rational" by IBM.
"With the increased pressure of software development teams to deliver under extremely tight timelines, CodePro Platinum offers the first complete Eclipse Java solution to maximize code quality," said Mike Taylor, CEO of Instantiations. "Instantiations is extremely well known in the Eclipse market with its automated code quality tools, as well for its GUI building tools. With limited time and budgets, customers are asking us to help them establish quality guidelines. We have created a system to streamline this process, further training customers to facilitate continued success. The IBM Rational Conference is an ideal place to launch this offering."
CodePro Platinum Delivers
World-Class Tools and Services - Base offering includes CodePro AnalytiX™ Server, 100 licenses of CodePro AnalytiX, and up to 400 hours of Instantiations' expert Professional Services.
Standards and Best Practices Implementation – Develop and implement corporate/Java coding standards; analyze critical security vulnerabilities and associated risks; define key quality indicators (metrics) in code; develop and configure audit rules specific to the development platform and internal frameworks used; optimize code maintainability.
Automated Testing – Automate creation of regression tests and define minimums for code coverage; streamline integrated quality checks into an existing build system, implementing code assessments and analytics.
Tracking and Reporting – Implement pre-defined management reports on system/application quality performance, with drill-down for audit results, metrics, JUnit testing code-coverage, and JUnit test results; establish unique quality benchmarks and mechanisms for measuring and tracking performance over time.
Pricing and Availability
The CodePro Platinum offering is sold as an enterprise solution, and pricing depends on the needs the individual organization. Please call Instantiations at 1-800-808-3737 or 503-598-4900 or visit http://www.instantiations.com/codepro/platinum/index.html for more information.
About Instantiations
Based in Portland, Oregon, Instantiations delivers world-class tools and services for professional Eclipse and Smalltalk developers. The company's award-winning products and professional services are trusted by software development organizations around the world to ensure software code quality, security, productivity and predictability of enterprise applications. Led by a team of internationally-recognized experts in Java and Smalltalk software technology, Instantiations is a founding member of the Eclipse Foundation and the Smalltalk Industry Council, and is an IBM Business Partner. With a line of products for Eclipse, IBM Rational®, JBuilder® and MyEclipse™, the company is named as one the fastest-growing Oregon companies four years running and recognized among the Top 100 companies influencing software development by SD Times for three consecutive years. For more information, visit http://www.instantiations.com.
Instantiations is a registered trademark of Instantiations, Inc. CodePro Platinum, CodePro AnalytiX, WindowBuilder, Swing Designer, SWT Designer, GWT Designer, RCP Developer, WindowTester and VA Smalltalk are trademarks of Instantiations, Inc. Java is a trademark of Oracle. All other trademarks are the properties of their respective companies.
###