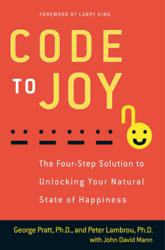 [Code to Joy] will change many people's lives for the better. Including yours. I know, because I've experienced it firsthand. – Larry King, from the Foreward.
San Francisco, CA (PRWEB) April 04, 2012
Beneath the surface—undiagnosed, untreated, and often unspoken—there is a pervasive cloud of unease affecting virtually everyone. This "fog of distress" is the reason so many people feel unloved, guilty, ashamed, fearful, and unsafe. It's the basis of addictions, sleeplessness, bad habits, conflict, and unsatisfying relationships.
Individuals from all walks of life suffer from this turmoil. But they needn't any longer.
In CODE TO JOY: The Four-Step Solution to Unlocking Your Natural State of Happiness (HarperOne; Hardcover; April 2012), acclaimed psychologists Doctors George Pratt and Peter Lambrou show readers how to eliminate negativity and make room for happiness in their lives. Having helped thousands of clients—Super Bowl champs, Olympic medalists, Academy Award winners, and top business executives—they are now making their revolutionary process available to all.
Though traditional psychology focuses solely on the mind, Drs. Pratt and Lambrou explain how the body and mind work together in tandem—and how psychological trauma can be treated through rebalancing our body's energy systems. The authors outline a series of exercises combining cognitive psychology with age-old disciplines such as yogic breathing and acupressure that help us to eliminate fears, anxieties, and buried emotional debris.
With over six decades of clinical experience, Drs. Pratt and Lambrou offer readers a clear-cut plan to rid themselves of negativity and rediscover their inherent happiness. With a four-step program practical enough to apply at home, yet powerful enough to transform lives, CODE TO JOY outlines a clear, effective path to discover and maintain true happiness.
About the Authors:
George Pratt, Ph.D. and Peter Lambrou, Ph.D. are licensed clinical psychologists in practice at Scripps Memorial Hospital in La Jolla, California. Both Dr. Pratt and Dr. Lambrou have served as Chairman of Psychology and are on staff at Scripps. Dr. Pratt has appeared on television and radio more than a hundred times, including repeat appearances on Larry King Live and MTV.
Praise for Code to Joy:
"Code to Joy is a gift to readers to learn a new way of thinking and being to eliminate the fog of distress, which haunts so many people. Dr. Pratt is a master clinician and skilled story teller. His work draws you in and guides you to a happier, more joyful life. I highly recommend it."
— Daniel G. Amen, MD, Author of Change Your Brain, Change Your Life
"George Pratt has an amazing gift to help you become the best you can be. He's had a huge impact on my ability to go further than I thought possible. There is no limit to what you can accomplish when you focus your abilities. Apply what you learn from reading Code to Joy and you'll prove that to yourself!"
— Dara Torres, five-time Olympic champion, author of Age Is Just a Number
"One of the greatest discoveries of the twentieth century was the intimate connection between body, mind, and spirit. The twenty-first century will be noted for the application and integration of this discovery into techniques that work. Drs. Pratt and Lambrou are already on the cutting edge. If you think life should hold greater joy and fulfillment than you are now experiencing, Code to Joy could change your life."
— Larry Dossey, M.D., New York Times bestselling author of Reinventing Medicine and The Power of Premonitions
CODE TO JOY
The Four-Step Solution to Unlocking Your Natural State of Happiness
by George Pratt and Peter Lambrou
HarperOne, an Imprint of HarperCollinsPublishers
HARDCOVER: April 2012 | $25.99 | ISBN: 9780062063151
E-BOOK: April 2012 | $20.99 | ISBN 9780062059406