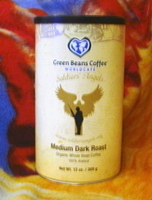 Pasadena, CA (PRWEB) December 4, 2008
Thanks to the work of Green Beans Coffee, military support non-profit Soldiers' Angels now offers a limited-edition blend of its own special coffee. Green Beans Coffee has been a long-time supporter of the troops, and Soldiers' Angels is honored to work with them on this project.
A special treat for civilians and soldiers alike, the dark roast blend of whole coffee beans from around the world is encased in a beautiful 13-oz canister designed by Green Beans Worldcafe. With the golden Soldiers' Angels logo on the front, and its "May No Soldier Go Unloved" motto on the back, the gorgeous canister of premium coffee will certainly bring smiles to faces and warmth to hearts. It's perfect for care packages to deployed troops, or sharing the work of Soldiers' Angels with a friend.
This limited-edition coffee is available exclusively through the Soldiers' Angels store at http://www.angelsstore.com. As with all items in the Angel store, any "profit" from sales is rolled back into projects in support of military personnel and their families.
Get your special Soldiers' Angels coffee while supplies last!
About Soldiers' Angels:
Established in 2003, Soldiers' Angels is a volunteer-based 501(c)(3) non-profit providing aid and comfort to the men and women of the United States Army, Marines, Navy, Air Force and Coast Guard, as well as veterans and military families. For more information, see http://www.soldiersangels.org or call 626-529-5114. Tax ID# 20-0583415
# # #