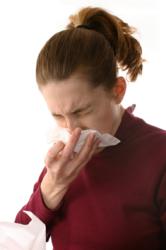 San Francisco, CA (PRWEB) March 04, 2013
If someone has been coughing, sneezing, or experiencing watery or itchy eyes, a runny nose, sneezing, or dark circles beneath the eyes, the symptoms might not be the result of the common cold. If these symptoms last for more than ten days and are not accompanied by any other signs of cold or flu (such as a fever and body aches), there's a chance they could be caused by winter allergies.
Bob Kearn, President and CEO of COIT, said, "Even if you live in an area that has been blanketed by snow all winter, environmental allergies can be a problem. Indoor allergens often are most problematic when windows have been shut for an extended period of time, trapping dust and other contaminants indoors."
When a furnace kicks in during the colder months, it can distribute dust, mold spores, pet dander, and other contaminants throughout a home or business through the air duct system. Dust mites can flourish in bedding and mattresses, and their droppings and remains can become airborne.
If a trip to the doctor confirms the presence of allergies, COIT recommends the following home or office cleaning steps to minimize the presence of indoor allergens: Dispose of any shower curtains, wallpaper, or carpeting that show visual or other signs of mold; maintain humidity levels below 50%; wash bedding regularly in hot water; vacuum carpets and area rugs regularly; and use a HEPA air filter to clean dust from the air.
Professional cleaning companies like COIT also offer a number of services that can help minimize the presence and effects of indoor allergens. COIT recommends that homeowners schedule an Air Duct Cleaning Service every two to three years, for example, and get on a regular schedule of professional carpet, upholstery, and drapery or blind cleanings. In the event of water damage that can lead to the presence of mold, contact a cleaning and restoration company such as COIT to mitigate any damage and eliminate the source of the problem.
For information on COIT's home and commercial cleaning and disaster restoration services, call (800) – FOR-COIT or visit our website.
ABOUT COIT
With more than 60 years of industry experience in the U.S., Canada and Thailand, COIT is a leading supplier of carpet, upholstery and drapery cleaning services. The company also provides tile & grout cleaning, air duct cleaning ,wood floor cleaning, and 24-hour emergency restoration services. COIT's impeccable reputation offers customers the peace of mind that comes from knowing every job will be done right the first time. For information about franchise opportunities, call Pat Saign at (800) 243-8797 X108.