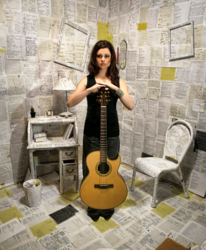 These engaging new
Big Book Tunes really bring your mathematics classroom alive.
St. Louis, MO (PRWEB) March 04, 2013
Pop singer/songwriter, Coles Whalen who describes her style as a little bit of folk and country, collaborated with Loren Ellis, lead guitarist for Easton Corbin; and ORIGO Education to create a catchy new album to help children learn math. The record is a soundtrack for the ORIGO Big Books series, which helps teach a variety of mathematical concepts from patterns to skip counting to division. Whalen's enchanting voice and high-energy music bring the characters in the books to life. The Big Book Tunes is the third children's album that Whalen & Ellis have produced under CLEW Media, the production company the pair co-founded. Their mission is to enhance young minds while encouraging kids and parents to have fun.
"I had such a great time making the ORIGO Big Book Tunes and I think you can hear it in the record, it transfers through to our music," says Whalen "Loren is the right mix of musicianship and whimsicalness, he doesn't take himself too seriously." The book series has several different illustrators so each title has its own individuality. Whalen says, "We tried to express each book's unique personality in our songs." Her favorite song to create was Pirate's Gold, a book about division and sharing. The tale of 6 greedy pirates learning to share and dividing up a gold chest is animated by the duo's voices complete with pirate sounds and a wise cracking parrot.
Whalen originally began writing children's music as an experiment to raise awareness for a good cause. She found that it challenged her in a way that she did not expect, but she truly enjoyed it. "I'm used to writing adult music and know how to express those ideas. It was very different to trying to translate an idea a kid might grab onto and put it to music."
The ORIGO Big Book Tunes was the result of a chance meeting. Coles was traveling in Australia with a friend shortly after her music video had gained circulation on CMC. Her companion introduced her to James Burnett, the President of ORIGO Education. He had been looking for someone to create music for the ORIGO Big Books. Whalen was enamored with the books from the start. "I wanted to read every single one. I love large format concept for promoting interactivity in the classroom." Young students have a natural love for learning, for stories, and for numbers. The ORIGO Big Books are beautifully illustrated, large format storybooks that build on this enthusiasm to help teachers introduce key mathematics concepts in Grades K–2. Each of the 36 ORIGO Big Books introduces and reinforces the essential mathematical language. For samples from the new album - http://bit.ly/BB_Tunes.
Whalen and Ellis will be performing live music at the launch party for ORIGO Education's new curriculum Stepping Stones on April 17th in Denver, Colorado. To catch a live performance for the show and attend the launch party you can RSVP here - http://bit.ly/launch_party.
###
About Coles Whalen: Coles Whalen is an Americana Pop singer-songwriter from Denver. She started performing at a young age, touring internationally with The Colorado Children's Chorale in the early 1990's. She graduated from The University of Southern California with a BA in 2003. Whalen has released five independent records. Her most recent, I Wrote This for You (2012) has been heard on La Galere (Paper Airplane) and seen on CMC (Call on Me, music video). She continues to play hundreds of shows each year including opening for Pat Benatar, Joan Jett, Rufus Wainwright, Paula Cole and Kellie Pickler. She is planning to release another record late in 2013.
http://www.coleswhalen.com
About Loren Ellis: Loren Ellis is the lead guitarist for country music artist Easton Corbin. He was previously a member of the Drew Davis Band. Born and raised in Agoura Hills, CA, Loren's talent was apparent at the ripe old age of 4 when he began playing the piano. Shortly thereafter, he was writing his own music. At 12 he discovered the guitar, or a guitar. Specifically, his father's prized Telecaster. Loren learned to play by sneaking into his father's closet to practice. Throughout his youth, Loren performed in various bands and earned a BM in Music at the University of Southern California.
About ORIGO Education: ORIGO Education provides customers with a complete education solution by combining an innovative range of elementary mathematics products with quality professional development. ORIGO demonstrates a commitment to excellence by creating resources that inspire and empower both teachers and students. ORIGO's new web-based curriculum Stepping Stones is written for the Common Core State Standards. This world-class mathematics program seamlessly blends digital and print resources with embedded professional development to develop a deep understanding. For more information, visit
http://www.origoeducation.com.