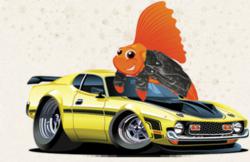 If your kids get an allowance, make a game out of saving some of it and spending some.
New York, NY (PRWEB) March 01, 2013
RoadFish.com men's lifestyle and finance magazine today issued their comments about college students and college-aged young adults possessing more than one credit card, encouraging students and their parents to take a close look at their individual circumstances and to establish credit wisely. RoadFish.com's plea comes after the recent release of a Fox Business article that reported on the benefits of college students only holding one credit card apiece. RoadFish.com was pleased to see such a column in the news, and followed up its publication with their own advice on how college students and other young adults can establish credit without opening up more than one credit card.
Emily Driscoll of Fox Business reported that applying for credit cards to take advantage of in-store offers might sound like a good idea to college students, however this practice could be counterproductive in the long run for their credit history. The article quotes Ben Woolsey, director of marketing and consumer research for CreditCards.com, as saying "Every time you apply, even if you don't use the credit, just having it available to you can make you look risky to future lenders. As a student, you don't really have that need to have more than one credit card."
RoadFish.com fears the repercussions of college students and other young adults owning too many lines of credit. RoadFish.com's Senior staff writer is quoted as saying, "Too many young adults see credit cards as free money, and the parents are thinking that it's a good idea for their kids to have a card for emergencies, or to up their credit. But what I see is young people, who don't have a complete grasp on finances or financial responsibility yet, going crazy with this plastic card without giving much thought to the consequences. And in many cases, it's the parents who end up fronting the bill, and that really doesn't teach the kids anything about finance. There are far better ways for young adults to start developing credit, even though it does seem like a catch 22—people need credit to apply for lines of credit, yet can't gain a credit history unless they have some open accounts."
According to the above-mentioned Fox article, a Sallie Mae survey performed in 2009 revealed that 91% of undergrads have at least one credit card. This number is a jump from the 76% shown in the same study done just five years earlier in 2004. What's more, the 2009 survey also showed that half of all college students polled had four or more credit cards.
RoadFish.com believes there are much better routes of developing credit history for young adults than opening multiple lines of credit. One way that RoadFish.com suggests is for parents to make their kids authorized users on their (the parents') credit card before the kids leave the house. There are two keys for this step to be successful, one being that the kids will need to understand what a credit card is, how it works, what interest means, and all the other details surrounding this new responsibility. The second key is that the parents must keep the account in good standing in order for it to reflect positively on their children's accounts, in other words not charging too much on the card and keeping all payments timely. Another similar thing is to put a utility bill in a child's name before he or she leaves the house. Credit cards are not the only means that credit bureaus use to track credit, utility bills count as well. So by putting the television or gas bill in a child's name, this will help establish some credit for them and as long as the account is open and in good standing it will be good credit.
RoadFish.com also encourages parents strongly to speak candidly with their children about finances, and show them the way to handle money responsibly. RoadFish.com's Senior staff writer is quoted as saying, "Parents, you've got to instill good habits in your kids when they're young, before they leave the house and the rest of the world has a chance to give them bad advice. If you keep a monthly budget at home, which you should, have your kids help you track it. If your kids get an allowance, make a game out of saving some of it and spending some. Help them to understand what in God's name credit history is, and why it's so important to have a good credit score. Some tools online are even sort of fun to use, such as Experian's Score Planner or the Mint.com software. The point is, get talking to your kids early on that way when it does come time for them to open a credit card, they're really ready."
The above-mentioned Fox article reports that despite the CARD Act of 2009, a law passed which required credit card companies to cease soliciting to consumers under the age of 25 and to require anybody under 21 years of age to furnish proven income or a co-signer before accepting them as a borrower, many students still own multiple cards.
About RoadFish.com:
RoadFish.com is a men's lifestyle and finance magazine that can be found online. Its audience is made up primarily of men in their 30's and 40's, and is targeted at those who have reached a decent level of success in life and are thirsty for more success in other areas. RoadFish.com's magazine regularly features articles about hot chicks, dating, restaurant reviews, and hot items such as mens luxury watch brands. Financial topics bring up budgeting tips and how installment loans can impact credit scores. RoadFish.com is owned and operated by Purpose, Inc.