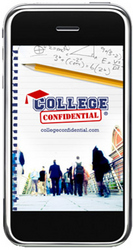 The College Confidential Mobile App is FREE and available to both iPhone and Android users.
Cincinnati OH (PRWEB) March 2, 2011
College Confidential®, the leading online discussion community for college-bound students, has now joined the world of apps. Hobsons has announced that it has launched a mobile app for its market-leading website, CollegeConfidential.com. The College Confidential Mobile App is free and available to both iPhone and Android users.
College Confidential's extraordinarily popular discussion forums are at the heart of the app, which allows registered users to login directly from their phones to check messages, post comments, and keep up with their favorite forums. Those who aren't yet CC members can still browse the forums and access other key features of the site; and if they decide to join, there's an easy registration link within the app. With one-click access to Admit This!, Ask the Dean, and School Spotlight, the College Confidential Mobile App makes it easy for students to gain access to and monitor the latest information about the college search.
College Confidential (http://www.collegeconfidential.com) was established to meet the need for free, accessible college search and college admission information on the Web and is now the Web's most popular college discussion community with more than 270 million page views from 46 million visits annually. At College Confidential, students and parents from across the country and around the world discuss important topics every day, including financial aid and scholarships, college rankings, test preparation, the college admission experience, and study abroad. Students come back to College Confidential again and again, but not just for the discussions: they also use our SuperMatch™ search engine (the only college search tool to utilize "fuzzy matching" technology, which results in the best possible matches), read our blogs and articles, and visit the CampusVibe section for its videos, photos, and campus visit reports.
To learn more about the features of the College Confidential Mobile App and to gain access to the app in both iTunes and the Droid Market, visit http://www.collegeconfidential.com/mobile .
About Hobsons
Hobsons is a premier provider of innovative technology and integrated marketing solutions that empower education professionals to manage the entire student lifecycle, including recruitment, enrollment, and retention. With end-to-end, enterprise-class products built from more than 30 years of education experience and market knowledge, Hobsons helps more than 5,000 global secondary schools, colleges, and universities achieve their goals. A Daily Mail and General Trust subsidiary, Hobsons is headquartered in Cincinnati, Ohio, with offices in Washington, DC; Fairfax, Virginia; Oakland, California; London, England; and Melbourne, Australia.
For more information about Hobsons, please visit http://www.hobsons.com.
###