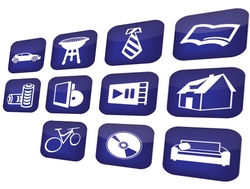 Take the BS out of your life (Book-Store)
Grand Rapids, MI (PRWEB) February 15, 2011
P2Pspot is an online college classifieds site that enables students to trade directly with their peers on campus. Students are collectively frustrated with their inability to trade locally and it's costing them precious dollars. Every semester the majority of students are forced to spend top dollar for their textbooks at the university bookstore and only a few months later sell them back for a fraction of what they paid.
It is not a surprise that P2Pspot's centralized social marketplace has become an attractive portal for students. Students utilize P2Pspot to buy and sell used textbooks, find off campus housing, job hunt, trade video games and much more.
P2Pspot's advanced search algorithms help students find items that do not require the inconvenience of shipping. P2Pspot is also equipped with Amazon, Half.com, Oodle and SimplyHired associations to offer the most competitive results to their users.
The classified sites we know today are just a messy compilation of links, flooded with ads which charge unnecessary seller fees. P2Pspot is a free service that delivers a great user experience with the ultimate goal of saving students money.
The site's founder, Brandon Webb, formed the idea of P2Pspot when he sold a textbook via a popular e-commerce website and the buyer who he shipped the book to actually sat next to him in his computer science class. This story most likely contributed to their original slogan, "Take the BS out of your life." (Book-Store).
###