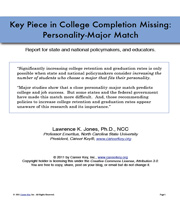 "Significantly increasing college graduation rates is only possible when policy-makers consider increasing the number of students who choose a major that fits their personality."
Dr. Lawrence K. Jones, NCC
Portland, OR (Vocus/PRWEB) March 09, 2011
Policymakers, foundations, and government leaders working to improve college completion rates are missing a major body of research: how personality-college major match affects student success, says a new report from Career Key, http://www.careerkey.org.
"Key Piece in College Completion Missing: Personality-Major Match," written by leading counseling psychologist, Lawrence K. Jones, Ph.D., NCC covers:

Why students' personality-major match impacts grades and graduation rates,
How some current school, college and government actions make a good match more difficult for students,
How policymakers are overlooking personality-major match research,
Solutions for helping students make a better personality-major match, and
Promising practices for boosting grades and timely graduation rates.
The overlooked research shows that the closer the personality-college major match the more likely students are to earn higher grades and graduate on time. Dr. Jones recently summarized this in a free report written for students and adults returning to school, "Choosing a College Major Based on Your Personality; What does the research say?"
About The Career Key®
The Career Key has been the #1 Internet source of professional-quality help in choosing careers and majors since 1997, and its content is licensed by top educational companies. It is one of the few websites offering a scientifically valid career test. Lawrence K. Jones, Ph.D., NCC, Career Key's author, is Professor Emeritus at North Carolina State University and a nationally recognized expert in career guidance.
# # #