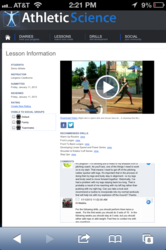 It surprised me when my online coach said, that most college coach's wouldn't get past my first sentence. She spent so much time helping me find my voice in my letter and on the field.
(PRWEB) March 25, 2013
Athletic Science has grown quickly but cautiously.
Athletic Science designed an intense screening process that helped to create an exclusive elite team of online sports coaches. In addition to sports video instruction coaches now provide "college recruitment coaching." All the Athletic Science instructors have a proven track record as seasoned athletes or college coaches. Athletes can consult with these online sports coaches from anywhere, anytime on any device.
Coaches employ their vast experience to provide online sports video coaching, sports drills and one to one private communication to help athletes and parents. According to Nicole Kefalas, community coordinator for Athletic Science, "Athletic Science reminds me of my favorite cookbook. Ten years ago my Aunt followed my grandmother around the kitchen while she made all her famous dishes. She measured a handful of this and a pinch of that. She wrote everything down, made copies and gave them out at Christmas. We do the same thing with our coaches. We let the best athletes and coaches document what made them great and share that with the world. "
For most athletes Junior year in high school is the biggest year for recruiting. Athletic Science understands that the development of any athlete, who even considers being recruited, begins long before their Junior year. Young athletes need to build the strongest foundation and should start early with their parents. Parents can sign up for free buy drills and purchase online video analysis lessons from elite sports coaches. For example a softball pitcher and her Mom/Dad can work with Jesse Lupardis, the 2008 Ivy League Rookie of the year and find out what helped her be recruited by a top Ivy League. Lupardis has been performing video analysis since 2009 and can now help athletes at any level with no geographical restrictions. According to Coach Lupardis, "Recruitment can be an overwhelming process, and I help athletes by breaking it down one step at a time. A variety of skills are important for becoming a competitive candidate. As a former top recruit, I know what it takes. I'll share my knowledge and guide any athlete who wants a collegiate career."
Or work with Emily Shaw who was a member of the U.S. Women's National Soccer Team and a Soccer Coach for six years at a Division I College. Emily continues to provide instruction and she is eager to share with young soccer players the importance of the fundamental skills. To see an example of one of her drills click her http://www.youtube.com/watch?v=aIGRB_d2Fyc or navigate to http://www.athleticscience.com/emilyshaw
Athletes can work with Emily privately online and she can recommend or design drills for any athlete at any level.
One recent athlete worked with an Athletic Science coach to perfect her first email to her favorite college. The high school junior did not want to use a form letter to send to her dream school and found the personal help priceless. According to Maddie a Junior from New England "It surprised me when my online coach said, that most college coach's wouldn't get past my first sentence. She spent so much time helping me find my voice in my letter and on the field. I have been working with her on my pitching form for the last two months and she has tweaked my start.I can finally throw faster than 60MPH consistently. She is the best coach I have ever worked with and I will continue working with her all summer on the road." Athletic Science online lessons are not cookie cutter instruction with form letters or standard drills. Online coaching at Athletic Science consists of individualized personal instruction. All lessons include a video of the athlete (marked up with the coach speaking), personal drills and a week-long communication journal. The journal is an opportunity for the athlete or parent to ask questions. Every aspect of the lesson will be saved in the athletes profile and be accessible anytime on any device. According to Coach Shaw, "for players interest(ed) in competing at the collegiate level this recruiting 'coaching' is supplementary to the player having a solid foundation of skills where they can contribute at the college level, and being good enough at their sport to compete at that level; however, assistance in the recruiting process can be the key (to) what sets them apart from other players of similar ability and helps them to get a foot in the door."