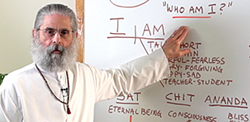 This conference provides an engaging forum for attendees to share innovative yogic strategies and tools so that physicians can support one another in combatting burnout and promoting resiliency. -- Leonard Perlmutter
AVERILL PARK, N.Y. (PRWEB) August 07, 2018
The American Meditation Institute has announced that AMI MEDITATION techniques for relieving and preventing common physician burnout symptoms will be taught in a supportive peer environment at the 10th annual mind/body medicine CME conference October 23-27, 2018 at the Cranwell Resort and Spa in Lenox, Massachusetts. Entitled "The Heart and Science of Yoga," this comprehensive, 32 credit CME training is accredited by the American Medical Association and the American Nurses Association.
The 2018 Medscape National Physician Burnout & Depression Report states that 42% of physicians are less engaged with their medical staff and peers, and more easily irritated throughout the day. Additionally, a 2017 Mayo Clinic article found that physician burnout decreases when a sense of community and collegiality is fostered between physicians and other health care professionals. According to the authors, Tait D. Shanafelt MD, and John H. Noseworthy MD, changes to the demands of medicine have "led to an erosion of peer support and a greater sense of isolation for many physicians." Colin West MD, PhD, a leader of Mayo Clinic's Program on Physician Well-Being concurs, "Mutual support from colleagues to deal with the challenges of their field has long helped physicians manage the stress related to practicing medicine and derive meaning from their work."
Leonard Perlmutter, AMI founder and faculty director, acknowledges that an increase in administrative tasks and other demands have had a direct correlation to both the decrease in meaningful time interacting with colleagues and the growing physician burnout epidemic. According to Perlmutter, "The 'Heart and Science of Yoga' conference curriculum represents the oldest and most effective holistic mind/body medicine to relieve and prevent burnout, heal disease, manage addictive habits, alleviate stress and inflammation, and balance life-work responsibilities." Then he adds, "This conference provides an engaging forum for attendees to share innovative strategies and tools so that physicians can support one another in combatting burnout and promoting resiliency." Previous conference attendee, family medicine practitioner, Stacey Pristelski, NP shares, "This retreat has given me a new perspective on life, in part by making connections with like-minded professionals. Everybody should attend, and the food was great and plentiful."
In support of The American Meditation Institute's initial continuing medical education accreditation for physicians (through the Albany Medical College), AMI conducted a 2008-09 retrospective case study of participants who completed Leonard Perlmutter's "Heart and Science of Yoga" course. The findings included these positive, reproducible, long-term health-promoting changes: significant reductions in stress and fear, decreased anxiety and depression, lowered blood pressure, lowered heart rate, improved restorative sleep, improved energy levels, increased creative capacity, diminishment of migraine headaches, elimination of irritable bowel syndrome, enhanced happiness and optimism, reduced cholesterol levels, diminished or extinguished acute and chronic pain, weight loss and increased breathing capacity.
The dedication, enthusiasm, and teaching methodology of the entire AMI faculty create a dynamic and interactive course for their students. Each faculty member is committed to the advancement and training of Yoga Science as holistic mind/body medicine. Distinguished presenters will include Leonard Perlmutter AMI founder; Mark Pettus MD, Director of Medical Education and Population Health at Berkshire Health Systems; Anthony Santilli MD, board-certified in Pulmonary and Critical Care Medicine; Sat Bir Singh Khalsa, PhD, Director of Research for the Kundalini Research Institute, and Assistant Professor of Medicine at Harvard Medical School; Susan Lord MD, a private practice holistic physician focusing on prevention and treatment, and former course director for The Center for Mind-Body Medicine's "Food As Medicine" program in Washington, DC; Jesse Ritvo MD, Assistant Medical Director, Inpatient Psychiatry, University of Vermont Health Center; Renee Rodriguez-Goodemote, MD, Medical Director of the Saratoga Hospital Community Health Center; Joshua Zamer, MD, Medical Director for Addiction Medicine at Saratoga Hospital Community Health Center and Chairman of the Department of Family Practice; Beth Netter MD MT, holistic physician and acupuncturist, Albany, NY; Prashant Kaushik MD, board-certified Rheumatologist; Anita Burock-Stotts, MD, board certified in Internal Medicine; Gustavo Grodnitzky PhD, Chair of the AMI Psychological Education Committee; Jenness Cortez Perlmutter, faculty member of The American Meditation Institute, and Lee Albert, NMT, acclaimed neuromuscular therapist and gentle yoga instructor.
Noted physicians Mehmet Oz (Dr. Oz), Dean Ornish, Bernie Siegel and Larry Dossey have endorsed Mr. Perlmutter's "The Heart and Science of Yoga" treatise, which serves as the primary curriculum for the conference. According to recent conference attendee Melinda Darling, Pediatrician, "This conference was very helpful for burnt-out physicians who need healing. It was an excellent program."
About the American Meditation Institute
The American Meditation Institute is a 501(c)3 non-profit educational organization devoted to the teaching and practice of Yoga Science, meditation and its allied disciplines as mind/body medicine. In its holistic approach to wellness, AMI combines the healing arts of the East with the practicality of modern Western science. The American Meditation Institute offers a wide variety of classes, retreats, and teacher training programs. AMI also publishes Transformation a bi-monthly journal of meditation as holistic mind/body medicine. Call (518) 674-8714 for a mail or email subscription.
Media Contact:
Robert Washington
60 Garner Road
Averill Park, NY 12018
Tel: 518-674-8714
Fax: 518-674-8714