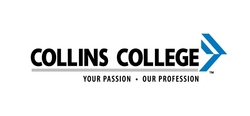 The students are excited about the chance to show off the hard work done while completing their chosen degrees--there is a healthy competition with fellow classmates when employers are present
Phoenix, AZ (Vocus) October 13, 2009
The second 3view Show will be hosted by Collins College at its new facility which opened its doors January 2009. On October 15, from 5 to 7pm, Collins College will showcase the work of recent graduates to their family, friends, fellow students and potential employers and public. More than 30 portfolios and looped presentations of work will be on display.
Degree programs include: Fashion Design & Merchandising, Game Design, Film and Digital Video Production, Graphic Design and Interior Design. More than 200 students will be participating in the commencement ceremony on October 16 and the plan is to make this event a tradition prior to each graduation. There will be digital, as well as hard copy representation of work available for viewing in several classrooms throughout the campus and the creators will be present to answer any questions.
"The students are excited about the chance to show off the hard work done while completing their chosen degrees--there is a healthy competition with fellow classmates when employers are present," said Jo Ann Rolfe, Senior Instructor at Collins and show coordinator.
As an added bonus, the show will also include work by the talented and diverse faculty that will be hung throughout the campus.
Collins College is located at 4750 S 44th Place, Phoenix AZ, in the Cotton Center business district.
About Collins College
Collins College provides students with a career-focused education. Approximately 1,200 students from across the nation attend Collins College. Collins offers Bachelor of Arts degrees in Game Design, Graphic Design, Interior Design, and Film & Video Production, and a Bachelor of Fine Arts in Fashion Design & Merchandising. Associate degrees are offered in Digital Video Production and Graphic Design. Collins is part of the Career Education Corporation network of schools (NASDAQ: CECO). Collins College does not guarantee employment or salary. For more information, visit http://www.collinscollege.edu.
Contact:
Andrea Meyer
847.585.3937
# # #