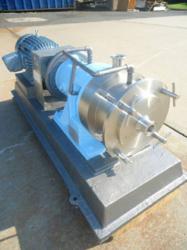 Wohl Associates sells colloid mills of various sizes and strengths
Bohemia, New York (PRWEB) March 05, 2013
Wohl Associates has announced that they have added six additional colloid mills to their inventory. The family owned and operated business prides themselves on offering their customer a wide variety of used machinery at fair market prices. In these hard economic times used machinery such as stainless steel tanks, packaging machinery, ribbon blenders, cartoners and colloid mills are great investments for manufacturing companies.
Colloid mills are machines that are used to reduce the particle size of a solid and are done by applying high levels of hydraulic shear to the process. They are used to produce food or pharmaceutical products as well as service additional industries. Wohl Associates sells colloid mills of various sizes and strengths.
The Charlotte SD-20 Stainless Steel Colloid Mill is a strong unit powered by a 20 horse power motor. This unit was last used to manufacture mayonnaise for a company who produced several food industry products. The Charlotte unit is known as a horizontal inline colloid mill and can be adjusted for different particle sizes.
Wohl constantly invests in its used machinery inventory to ensure that it has the largest selection of used equipment for the food, pharmaceutical, cosmetic, chemical and other related industries. Each unit is inspected, cleaned, tested and offered at fair market prices to their customers.
This trusted industry leader in pre-owned machinery also specializes in appraisals of processing and packaging equipment. Whether an appraisal is needed for insurance reasons, buyouts, loans, or for mergers or acquisitions, Wohl can assist with a qualified appraisal to fit any need.
With more than 40 years of service, they are a proven leader in this marketplace. Surplus machinery from factories and local businesses are renovated and offered to the public on their website. Wohl also can trade one machine for another when circumstances allow.
About Wohl Associates
Wohl Associates is a leading dealer in the used processing and packaging machinery industry. With a history and solid reputation spanning over 40 years, they have earned the trust of their clients by offering quality pre-owned equipment, expert customer service and invaluable knowledge to their customers. They treat each customer on an individual basis and customers are provided the highest level of service. With a large inventory ranging including cartoners, ribbon blenders, stainless steel tanks, unscrambling tables, colloid mills and vitamin manufacturing equipment, Wohl Associates has the pre-owned machinery to fit any production line. To view their inventory and learn more, visit them at http://www.wohlassociates.com/.