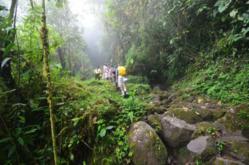 We are offering trekking, rafting, and rainforest tours in a country still waiting to be re-discovered.
Missoula, MT (PRWEB) November 29, 2012
After 15 years of leading the industry in active small group tours to Latin America, the award-winning travel company Adventure Life has expanded its offerings to include Colombia travel. A diverse country with an assortment attractive travel options and a newly devoted emphasis on tourism, Colombia possesses all of the qualities that attract travelers to Latin America: the Andes, the Amazon, Caribbean beaches, the Pacific Coast, colonial cities, archaeological ruins, trekking, multisport adventures, wildlife, colorful festivals, and most importantly, gracious hosts. For more information on Adventure Life Colombia tours, visit http://www.adventure-life.com or call 800-344-6118. Prices start at $1,875.
"Comfort and safety is the primary focus of our new Colombia tours," said Adventure Life General Manager Jonathan Brunger. "We are offering trekking, rafting, and rainforest tours in a country still waiting to be re-discovered."
One of the most unique options is a six-day mountain biking trip on which guests pedal through multiple ecosystems, from the high Andes to the lowland tropics. This intermediate cycling experience reveals beautiful river valleys and historic ruins via Colombia's back roads. Guests explore colonial towns, tackle the impressive Chicamocha Canyon, and sample regional flavors at an organic coffee hacienda.
Another exciting tour is the "Andes to Caribbean Multisport Tour." Guests hike, bike, and raft in the Andes before descending to the Tayrona National Park. This Colombia trip provides a good view of Colombia's history, culture, and diverse landscape for travelers wanting to stay active on their Colombia vacation.
The "Coffee Triangle and Medellin Multisport" tour explores nature reserves and several historic cities of the Central Andes. The tour begins by sampling local flavors of Colombia's world-famous coffees in the Coffee Triangle. It continues with hiking and biking through unique high altitude ecosystems and cloud forests, and concludes with a class III & IV rapids rafting trip on the Rio Buey. City tours of colonial Santa Fe de Antioquia and trendy Medellin make this a complete Colombia adventure.
For more information on Adventure Life's new Colombia tours or for customized Colombia packages, call 800-344-6118.
About Adventure Life:
Adventure Life was founded in 1999 with a commitment to providing quality small group tours that have a positive impact on the local culture and environment. With more than 100 adventures in South and Central America, Adventure Life's trips explore local culture, ecology and life from remote villages, to bustling city markets, to the wildest jungles and mountains. The company's grassroots approach to travel utilizes local guides, family run hotels, and the local transportation infrastructure. Adventure Life is headquartered in Missoula, Montana, U.S.A, with partners throughout South and Central America. Adventure Life also offers the broadest selection of specialized expedition cruise services to the world's most remote destinations. For more information visit Adventure Life on Facebook.