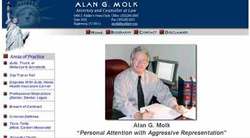 That's him; he's the one
Englewood, CO (PRWEB) October 22, 2008
Colorado attorneys Alan G. Molk and Thomas J. Helms have filed a lawsuit in Denver District Court under case number 2008CV8839 against the City and County of Denver, Denver Police Department, and individual officers, on behalf of their client, Eric Winfield, an alleged victim of recent police brutality.
The suit claims that on October 28, 2007, following Game 3 of the World Series, Mr. Winfield was walking with friends in the area of 17th and Market Streets on their way to a friend's car, when Denver Police Officers, in response to a bouncer yelling out, "That's him; he's the one," allegedly threw Mr. Winfield onto a car, and then face down onto the pavement.
According to allegations, officers then repeatedly punched Winfield in the face and kneed him in the groin. Mr. Winfield claims that as a result of this recent police brutality that he has suffered a fractured nose, lacerations to his face requiring ten stitches, chipped and cracked teeth, and a burst blood vessel in his eye.
Mr. Winfield was subsequently arrested for assaulting a police officer and resisting arrest. He claims that despite his repeated pleas that the police officers loosen the handcuffs, nothing was done for more than seven hours, resulting in permanent nerve damage to Mr. Winfield's hands, which is damaging to his profession as a graphic artist.
Eric Winfield was neither charged nor involved in any criminal behavior preceding the beating and arrest. All criminal charges against Mr. Winfield were dismissed, without the need for any hearing, by the District Attorney's Office.
About The Law Firm of Alan G. Molk:
Mr. Molk has been practicing law since 1988 and has the highest rating of AV from Martindale Hubbell. He has 22 years experience as a litigator and, prior to opening his private practice in 1995, served 8 years as a prosecutor for the Arapahoe County District Attorney's Office. The depth and breadth of his knowledge and experience distinguish Mr. Molk among Colorado attorneys. Mr. Molk is also a member of Tom Martino's Exclusive Referral List. Mr. Molk's full biography can be found on his website, AlanMolk.com.
###