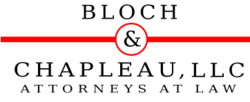 Insurance companies paid out about $479 million for dog bite and dog attack claims in 2011
Denver, CO (PRWEB) May 31, 2012
Colorado Injury Lawyers, Bloch & Chapleau are pleased announce the formation of a Colorado dog bite injury litigation department. Dog attack law suits are on the rise. According to a recent study by the Insurance Information Institute, Insurance companies paid out about $479 million for dog bite and dog attack claims in 2011,These claims are typically paid under homeowner's liability policies. In addition, the average amount paid per claim has risen 54% since 2003 to an average of $29,400 per claim in 2011. Dog bite claims now account for more than one-third of all total liability claims paid out by homeowner's insurance.
The study attributed the substantial increase in the amounts paid for dog bite claims to increased medical costs for dog bite victims as well as larger settlements, judgments, and jury awards to victims. In fact, compensation for dog bite victims has risen well above the rate of inflation.
According to the Centers for Disease Control, 4.7 million people are bitten by dogs each year and about 800,000 dog bite victims require medical attention. Of those victims, 386,000 require emergency room treatment and 16 die.
The Colorado Injury attorneys at Bloch & Chapleau have experience representing Colorado dog bite and animal attack victims in claims against dog owners and their insurance companies. Our litigators are familiar with the Colorado Civil Dog Bite Statute and can determine whether a dog owner violated the Statute or was negligent to get dog bite victims the compensation they deserve.
Bloch & Chapleau is a full service Colorado Injury law firm practicing Colorado Injury law in the areas of dog bites, automobile, trucking, motorcycle, recreation, premises liability, and all other types of personal injury claims. Bloch and Chapleau has been helping injured people in the Denver area, the Vail Valley, and throughout Colorado for 25 years. For more information, call Bloch & Chapleau at 303-331-1700 or visit http://www.blochchapleau.com