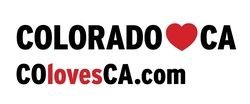 Plus, we share many companies and both states rely upon each other for innovation, venture capital, and customers. There is tremendous potential for sustained economic growth.
Denver, CO (Vocus) February 13, 2009
For years, states across the country have been courting California companies potentially interested in expanding or relocating out of the Golden State, but Colorado is stepping up those courtship efforts with the launch of its "Colorado Loves California" campaign today.
The Metro Denver Economic Development Corporation (Metro Denver EDC) is taking to the skies, the Internet, and California business publications to launch a broad marketing initiative that aims to create new jobs and investment throughout the nine-county region.
The start of the COlovesCA campaign coincides with Valentine's weekend -- providing Metro Denver/Colorado the perfect opportunity to profess its love for California companies. Today, advertising in the San Jose Mercury News, the L.A. Times, and the San Diego Union-Tribune touts that the Mile High State is a perfect match for Sea-Level companies looking to expand their operations. In addition, The Wall Street Journal featured the campaign in today's edition.
Earlier this week, the Metro Denver EDC sent customized valentines to C-level executives at 500 California companies that research shows are in a growth mode and therefore, in a prime position for expansion. And today, a plane with an 80-foot-long "Colorado Loves CA" banner will fly throughout metro Los Angeles to further make Metro Denver's intentions known.
"Our two states are closely linked by shared companies and similar economies. Our economic cycles are different, so we trade workers back and forth," said Tom Clark, executive vice president of the Metro Denver EDC. "Right now, Colorado is in a stronger position. We're offering an opportunity for economic growth that isn't available right now in California."
Holli Baumunk, vice president of the Metro Denver EDC, says the region is definitely stepping up its game when it comes to business attraction and expansion. "Metro Denver is an attractive option for California companies, because of our lower tax rates and cost of living," said Baumunk. "Plus, we share many companies and both states rely upon each other for innovation, venture capital, and customers. There is tremendous potential for sustained economic growth."
San Francisco-based Charles Schwab, which recently announced that it will create 500 new high-paying jobs in Douglas County, is typical of the type of California company with which the Metro Denver EDC often works - advanced technology firms seeking lower operating costs, highly educated and skilled workers, and a great quality of life. Schwab company officials said they chose to expand in Metro Denver "as part of a long-term strategic growth decision and due to the deep talent pool of high-tech workers here."
Additional components of the California marketing initiative include creation of the COlovesCA.com microsite. With detailed economic reports on doing business in Colorado versus California, it serves as a portal for California companies to explore the Metro Denver EDC's data-intensive Web sites - metrodenver.org and metrodenverGIS.org. A video showing Metro Denver EDC/Chamber staff sending valentines to California is also posted on the site.
The Metro Denver EDC will follow its February COlovesCA launch with direct marketing efforts, media pitching, and trips to meet with California companies, site selectors, and venture capitalists. "We want to capture the attention of business decision makers in the Golden State," said Janet Fritz, director of marketing for the Metro Denver EDC. "And what better way to do that than to send 'I love yous' during tough economic times."
The Metro Denver EDC will also initiate a local awareness campaign of the ongoing retention and expansion efforts by Metro Denver's economic development organizations to create new jobs, educate companies on new business legislation, help with real estate and permitting needs, and promote a competitive business environment
For more information, please contact:
Susan Brake, on behalf of the Metro Denver EDC
720.855.8612
859.445.1671
###