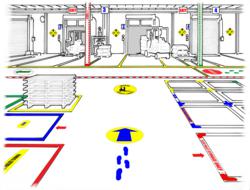 Wake Forest, NC (PRWEB) April 17, 2013
Since these Superior Mark floor markers are in demand, Stop-painting.com decided to offer Superior Mark corners in 50 packs. Superior Mark is a colored tape that increases structrue and organization in the warehouse. These floor markers feature Superior Mark's patent pending design with beveled edges and recessed adhesive to maximize durability. Superior Mark's edge is scientifically proven to withstand more pressure, so when a forklift pushing a pallet exerts force against Superior Mark floor marker, the pallet will ride up and over the beveled edge, instead of dislodging the floor marker.
Warehouses and industrial facilities often need to create box shapes on the floor for forklift parking areas, pallet alignment systems or for other delineated rectangular spaces to adhere to certain floor marking standards. Usually those are marked with solid lines of paint or a thin grade of vinyl tape. These solid lines undergo heavy traffic as forklifts pass over them, dragging materials, or pushing pallets, which will quickly damage the lines. Retouching the lines of paint requires a costly shut down and thin vinyl tape requires labor intensive scraping to remove the tape completely.
The most effective way of marking industrial spaces is by using a combination of L, T and X markers. These Superior Mark floor markers require less material, more cost effective, and much easier to manage. Using floor markers is great because if one floor marker is damaged, it can be individually replaced. The floor marking will still be highly visible and will create the desired organized and safe workplaces.
Superior Mark is a more durable floor marking solution that features beveled edges, recessed adhesive, and a quick peel liner. This unique combination enables Superior Mark to be a very cost effective floor marking material.
Insite Solutions manufactures Superior Mark floor markers in six bright colors, which are useful for facilities that implement Lean or 5S Initiatives.
Contact Details:
InSite's selection of workplace safety and traffic control solutions are available for sale at their ecommerce website, http://www.stop-painting.com/. Please contact Cliff Lowe for additional information. The telephone number is 1-866-284-1541 and email is customer-service(at)stop-painting(dot)com. Find us on Twitter http://twitter.com/insitesolution, Facebook, and Linked In http://www.linkedin.com/company/insite-solutions-llc.
# # #