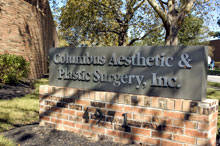 Whenever we find a way we can improve communication between ourselves and our patients, to make the surgical experience more comfortable and less mysterious to our patients, we want to do it
Columbus, OH (PRWEB) April 14, 2012
The Board Certified Plastic Surgeons of Columbus Aesthetic & Plastic Surgery are pleased to announce the newest tool in breast implant sizing, the Mentor Volume Breast Implant Sizing System.
"The system is designed to give patients a more accurate representation of their surgical result, helping better inform women before surgery of how they will look after the procedure," said Dr. Timothy Treece. "We are excited about offering this new system as it will greatly enhance our Columbus patient's confidence during the breast implant sizing selection for breast surgery procedures," added Dr. Robert Heck.
The new Volume Sizing System uses 18 different breast sizing molds to represent a full range of breast sizes. The breast implant sizers are made of a comfortable, flexible silicone material and are shaped to fit around patient's existing breast tissue, offering a realistic preview of how she will look after a breast procedure.
Columbus Aesthetic & Plastic Surgery uses only Mentor Breast Implants based on their 30 year record of adhering to the highest standards of safety in manufacturing, testing and clinical trials for saline breast implants and silicone breast implants. They are the only company in the world whose implants are manufactured in the United States. Breast Procedures performed by the Columbus plastic surgeons at Columbus Aesthetic & Plastic Surgery that utilize breast implants include Breast Augmentation, Breast Lifts (Mastopexy), Breast Reconstruction, and Breast Reduction.
"Whenever we find a way we can improve communication between ourselves and our patients, to make the surgical experience more comfortable and less mysterious to our patients, we want to do it," said Dr. Susan Vasko. "The Mentor Volume Breast Implant Sizing System is an excellent tool both for us and our Ohio plastic surgery patients, and it leads to better understanding and expectation of outcomes when selecting breast implant size," added Dr. John Wakelin.
About Columbus Aesthetic and Plastic Surgery, The Medical Spa at CAPS
Columbus Aesthetic and Plastic Surgery consists of four Ohio based board-certified Columbus plastic surgeons: Dr. Timothy Treece, Dr. Susan Vasko, Dr. Robert Heck and Dr. John Wakelin, a team of highly skilled medical aestheticians, laser skin treatment team, and laser hair removal specialists, as well as four full service Medical Spa locations in Upper Arlington, Easton Town Center, Dublin Salon Loft, and the Westerville Salon Loft.
We are dedicated to creating an enjoyable, stress-free and thoroughly rewarding experience for our Ohio patients - from your initial cosmetic surgery, plastic surgery or reconstructive consultation to your last post-operative visit. Our job is to help you realize your aesthetic goals and to help enhance the confident, beautiful person you already are.
At Columbus Aesthetic and Plastic Surgery our goal is to make your cosmetic goals a reality and we work to make that happen for each and every one of our patients.
Columbus Aesthetic and Plastic Surgery offices are located in Upper Arlington at 4971 Arlington Centre Blvd, Upper Arlington, OH 43220, and also in the Easton Town Center at 4030 Easton Station, Suite 260, Columbus, OH 43219. They can be reached at (614) 246-6900 and at http://www.ColumbusPlasticSurgery.com